Hunova Rehabilitation Robot Combines Different Functionalities in a Single Platform
BY: FG Team
26 October 2017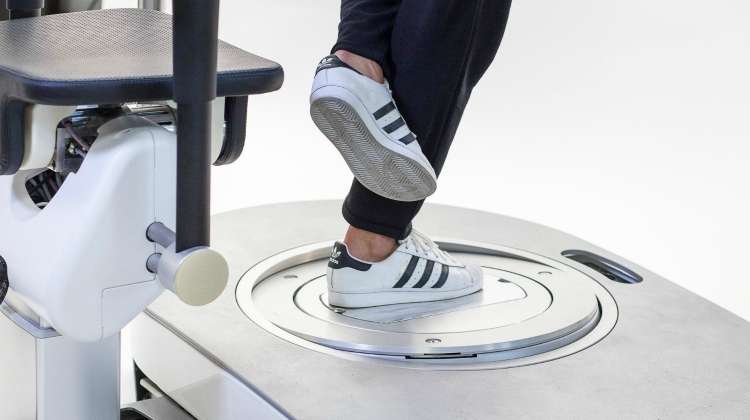 images: MOVENDO
Hunova is a multifunctional robotic rehabilitation device that offers objective evaluation and a range of exercises and modalities for the rehabilitation of the lower limbs, the vestibular system and the torso.
Hunova is a unique robotic rehabilitation device that offers a number of different functionalities in a single piece of equipment. Developed for use in daily clinical practice, the platform offers advanced rehabilitation and evaluation features that interact with each other to provide clinicians with a powerful tool for therapy and objective measurement. The device can be used in the rehabilitation of the lower limbs, the vestibular system and the torso.
Hunova uses biofeedback and games to engage patients in various therapeutic exercises and tasks, such as maintaining balance on an unstable seat or platform while drawing on the touchscreen. The device offers more than 150 exercises for every stage of rehabilitation and can be used to address orthopedic and neurological problems, sports injuries and issues associated with aging.
With a robotic and sensorized seat and platform, Hunova allows clinicians to supervise a varied range of therapeutic exercises without having to move the patient between different devices. The platform tracks the patient's performance, trunk position and acceleration using a wearable sensor placed on the patient's trunk. All performance data is recorded and stored for later analysis.
Hunova offers active, passive and assistive modalities for rehabilitation. In the active mode, the seat and the platform respond to the patient's movement, assisting with exercises that improve strength, balance and proprioception. Clinicians can customize the resistance, difficulty level, and amplitude of seat and platform movement to meet the needs of each individual patient.
The passive mode offers a range of options for the platform's trajectory, amplitude and speed as it moves the patient with continuous or impulsive motion. This type of movement is used to mobilize the joints, execute balance perturbation and re-train movement.
In the assistive mode, the patient actively performs various movements and the platform provides support when he or she cannot independently complete the task.
Hunova was developed by Movendo Technology, an Italian medical technology company dedicated to designing and producing effective, clinically relevant robotic technologies that assist physical therapists, medical doctors and patients during the rehabilitation process. The company develops innovative products using insights from research conducted by the Italian Institute of Technology, a leading research centre specializing in the fields of robotics, computation, neuroscience, nanotechnology and renewable energies. Watch the video below to learn more about the Hunova.