InMotion ARM, WRIST and HAND Robots Redefine Neurorehabilitation
BY: FG Team
21 September 2015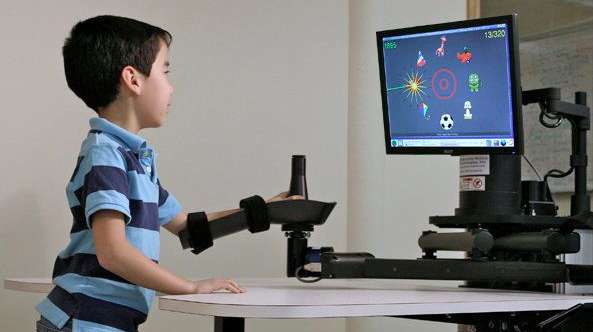 images: INTERACTIVE MOTION TECHNOLOGIES
The InMotion ARM, InMotion WRIST and InMotion HAND are interactive therapy systems developed by Interactive Motion Technologies to assist with the treatment of patients with neurological disorders.
The three advanced robotic therapy tools developed by Interactive Motion Technologies – the InMotion ARM, InMotion WRIST and InMotion HAND – help patients with neurological disorders reacquire motor skills and improve function while also enhancing their capability to learn and improving their quality of life. The InMotion Robots are highly effective in therapy, ensuring that patients are always motivated and able to perform more than a thousand movements during a single interactive therapy session.
The InMotion ARM Interactive Therapy System is clinically proven to improve Functional Independence Measure (FIM) scores, which indicate patient disability and are used to track changes in patients' functional ability (motor and cognitive) during rehabilitation. The robot assisted therapy tool focuses on improving patients' strength, coordination, range of motion, and movement speed and smoothness through a series of games that require them to perform between 400 and 1,000 repetitions per therapy session. The technology itself is very easy to set up and use.
The InMotion HAND, an optional module that attaches to the InMotion ARM, was developed to help with intensive grasp and release therapy. It continuously adapts to the patient and provides support as needed.
The InMotion WRIST is an exoskeletal robot that also senses the patient's wrist movement and provides support to ensure that the movement is performed successfully. It can overcome even severe impairment to lift a patient's hand against gravity. The InMotion WRIST was designed to accommodate normal range of motion in everyday tasks. It comes with different games that help improve patients' hand-eye coordination, motor planning, and attention among other things. The robot is used either as a standalone therapy option or together with the InMotion ARM.
Founded in 1998, Interactive Motion Technologies (IMT) specialises in developing advanced robotic neurorehabilitation tools by applying the latest findings in neuroscience, biomedical engineering and neurorehabilitation research. The InMotion Robots were developed at the Newman Laboratory for Biomechanics and Human Rehabilitation at the Massachusetts Institute of Technology (MIT).