Kinems Tackles Learning Disabilities with Kinect Games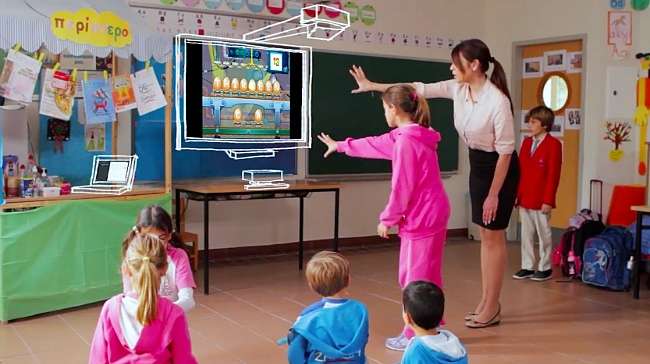 images: KINEMS
Kinems is a Kinect-based interactive gaming solution designed to help children with ADHD, autism and dyspraxia improve a range of skills through active play.
Kinems is an innovative game-based platform that uses Kinect technology to offer children with learning disabilities and developmental disorders enjoyable play experiences and train a range of different skills. Kinems uses a personalized learning method to engage children with special needs to interact naturally with gaming environments using only hand and body gestures to increase their focus, motivation and level of enjoyment. At the same time, the platform allows therapists and special educators to monitor the children's progress from any device, providing them with insights to help them plan future learning sessions.
The games available with Kinems immerse children in various kinesthetic learning activities, engaging both their bodies and minds. They are targeted to children with dyspraxia and learning disabilities such as dyslexia, dyscalculia, ADHD and autism, and employ therapeutic protocols used in special education and therapy.
The games can help children improve specific skills, including hand-eye coordination, sequencing, problem solving, attention span, and short term memory. U-Paint, for instance, is a sensory learning game that engages up to six children in creative expression in the form of air painting to train their gross motor skills, improve their focus and self-regulation, and help relieve stress. Ponder Up teaches them to compare numbers and quantities, asking them to control a little frog on the screen and move left or right to pick the right answer. Yeti Jump serves audiovisual questions and challenges kids to jump one or more times over ice cubes on an ice trail to reveal the correct image that answers the questions. Mathloons asks them to practice addition, subtraction, multiplication and division and to identify the balloon that represents the correct answer to a math problem.
Kinems is designed for use by educators, occupational therapists, ergotherapists and other healthcare professionals and can be used in schools, including special schools, clinics, children's hospitals, therapeutic centres and at home with therapists. The system requires the Kinect for Windows camera, a laptop or PC running Windows 7 or 8, and a TV screen or a projector.
Founded in 2013, Kinems develops solutions that make special education more engaging and improve learning effectiveness. The company's games are based on proven educational practices and can easily be adapted by an educator, therapist or parent to meet the individual needs of each child.
Watch the video below to see some of the games and options available with Kinems.