Kinesis Studio Improves Patient Outcomes with Motion-Activated Displays
BY: FG Team
4 September 2015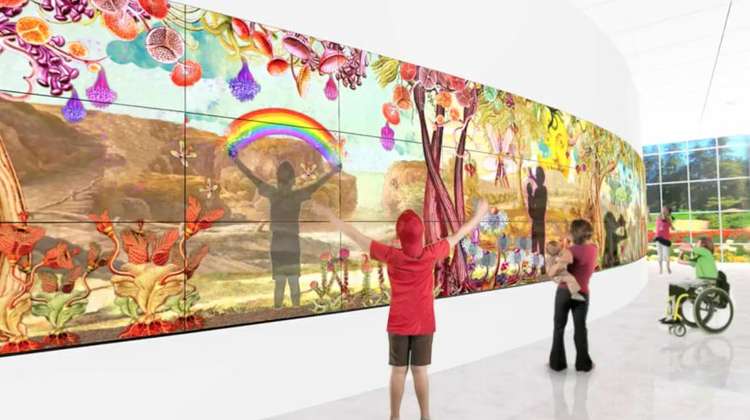 images: KINESIS STUDIO
Kinesis Studio develops interactive motion tracking solutions for hospitals and healthcare clinics.

  
Kinesis Studio develops innovative motion-based solutions that improve the day to day quality of life of patients in hospitals and other healthcare environments.Designed to immerse patients in animated, interactive environments, the company's motion-activated walls, floors and tables are used in hospitals and healthcare clinics around the world.
Unlike most digital health technologies, which focus on metrics tracking and health records, Kinesis Studio's products are developed to increase patient engagement and reduce stress, and to support both active and passive healing. A number of studies have shown that patients who are more engaged and less stressed tend to achieve better outcomes. 
Kinesis Studio's interactive technologies use animation and motion-activated displays to deliver immersive experiences to patients and their families. The solutions are particularly well received in children's hospitals, where they encourage motion and creativity by inviting children to interact with onscreen avatars and use gestures to create their own stories. The interactive displays offer children distraction and original experiences that help them forget their fears and enjoy their hospital stays more than they normally would. 
Based in San Francisco, California, Kinesis Studio specialises in developing large-scale immersive, motion-based entertainment experiences for public spaces. The company is also engaged in research to broaden the range of applications of its interactive platform to include clinically measurable digital health. The company's interactive displays are used in hospitals, sports venues, museums, airports and branded environments worldwide.
Alex's Place at Miami Children's Hospital in Miami, Florida is one of the places that use Kinesis Studio's products. The clinic specialises in treating children with blood disorders and cancer and is a unique environment, one designed to put the children at ease and make them feel comfortable while they are undergoing treatments. Kinesis Studio's motion-based walls and floors engage the young patients in a range of activities that achieve this through gesture-based interactive experiences.
The Nemours/A.I. DuPont Hospital for Children in Wilmington, Delaware is another healthcare facility that has integrated the company's interactive solutions to engage patients in virtual environments. The hospital has a unique Discovery Zone that keeps children entertained during their stay. Watch the video to see the experience Kinesis Studio's custom designed installation delivers at the hospital.