PEARL Lab Examines Effectiveness of Inclusive Interactive Technologies in Children's Rehabilitation Programs
BY: FG Team
18 November 2017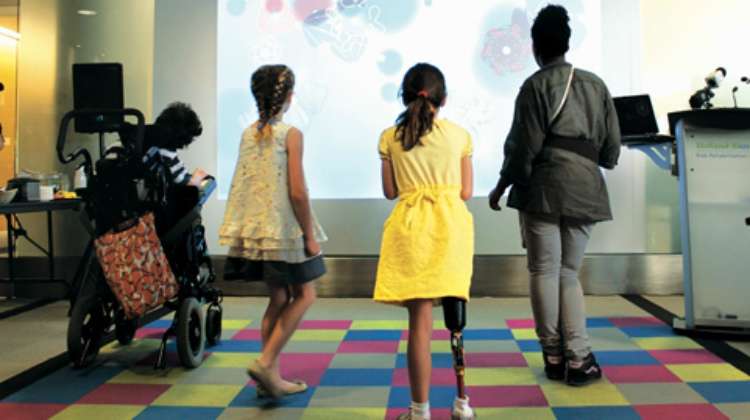 images: BLOORVIEW RESEARCH INSTITUTE
The Possibility Engineering and Research Lab (PEARL) in Toronto focuses on creating possibilities for young people with disabilities through the use of VR and interactive technologies.
The Possibility Engineering and Research Lab (PEARL), an interdisciplinary research group at Holland Bloorview Kids Rehabilitation Hospital in Toronto, is dedicated to conducting studies that focus on using virtual reality and interactive technologies to create opportunities for children with disabilities and enable them to participate in various creative, physical and therapeutic activities. PEARL researchers conceptualize and develop these technologies and evaluate their potential in assisting children, families and clinicians in therapy, physical activities, music and arts.
The group's current studies focus on virtual reality therapy, health and wellness, and accessible interactive technology. As part of an ongoing study, the researchers have created ScreenPlay, an inclusive interactive environment for use in waiting rooms in hospitals and doctors' offices. ScreenPlay is designed to distract children from the stress and anxiety that they usually experience while waiting for their doctor's appointment. It features a large projection wall that children of all abilities can interact with through a pressure-sensitive floor. The researchers are currently working on enhancing the experience with musical and sound interactions, and the underlying concept will also be used to create opportunities for creative expression through art and music.
The PEARL researchers are also exploring ways to use active games to promote physical activity. When it comes to exercise, children with disabilities face considerable obstacles – physical, psychological and social ones – and this puts them at a higher risk of illnesses and conditions associated with inactivity, including cardiovascular disease and diabetes. The PEARL group is developing innovative technologies to overcome these obstacles using research insights in the fields of technology design, cardiopulmonary assessment, biomechanics, interaction design and the psychology of behaviour change.
The PEARL lab is also researching technologies that can be applied in virtual reality therapy of children with cerebral palsy, specifically video games that can make hand and arm therapy more engaging and technologies that can detect the movements involved in the therapy. Additionally, the team is developing a platform for virtual reality therapy that encourages repetitive play to promote neuroplastic change in children with CP.
Another project involving the rehabilitation of young people with CP focuses on video games for music therapy. Hand and arm rehabilitation programs that challenge patients to make music have proven to be potentially more effective than traditional approaches with adult stroke patients. The PEARL lab is now exploring the potential of applying music-supported therapy with children. The team has created MusicMaster, a video game that challenges kids to listen to a melody and play it back on a virtual keyboard while the Kinect sensor detects their movements and translates them onto a TV screen.
The PEARL lab has also developed a video game controller called the Falcon to make hand and arm rehabilitation more fun. As part of the project, the researchers are examining the controller's effectiveness in improving hand function to see if it makes a valuable intervention tool for therapy for children with CP. Watch the video below to learn more about the team's work.