Timocco Motion Gaming Platform Helps with Wide Range of Developmental Disorders
BY: FG Team
15 February 2017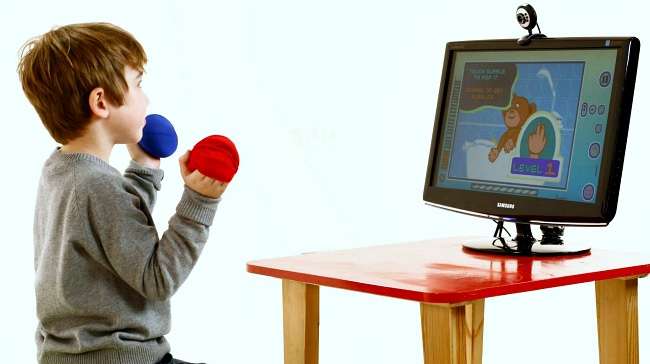 images: TIMOCCO
The Timocco interactive motion gaming platform offers a tested and proven solution for a wide range of disorders and occupational therapy treatment plans.
The Timocco gaming platform offers a range of motion-based virtual reality games developed to motivate children to improve their cognitive, motor and communication skills through active play. The platform was used in a number of studies that proved the effectiveness of the games in improving children's motivation, as well as a range of specific skills that had an impact on their quality of life.
Timocco comes with more than 50 interactive games and training plans designed by a team of occupational therapists to guide and encourage children to develop the skills they need in everyday life. The training plans are interactive and designed for specific developmental ages and purposes. The sessions with Timocco are structured and use specific games and settings to achieve functional, skill-based goals.
A case study published in the Massachusetts Institute of Technology Journal in 2012 used the virtual environment of a Timocco game to address the needs of a 5-year-old child with dyspraxia, a fairly common developmental coordination disorder (DCD) that affects fine and gross motor coordination.
Growing with Timocco, a computer game designed for use in therapeutic settings, provided exercises for cognitive and motor skills, as well as a positive, motivational setting for therapy sessions. The game was incorporated into the child's occupational therapy sessions for 15 minutes for three consecutive weeks, challenging him to control Timocco's hands with his own hands to catch fruit items on the screen while playing a game called Falling Fruit. The game was designed to train precision in motor tasks, hand-eye coordination, reaction speed, categorization and visual discrimination. During the intervention period, the child's performance improved significantly, indicating that the game was effective at improving his ability to focus his efforts, as well as his motivation to cope with difficulty. The results also showed an improved ability to maintain static positions over time and a lessening of motor fatigue.
A similar case study was conducted at the Child Development and Neuropediatric Center in Haifa, Israel, to demonstrate the use of virtual reality in improving playfulness and play skills in pediatric occupational therapy sessions. Growing with Timocco was used as an intervention tool with a 5-year-old boy with an immature body posture, who showed a pattern of avoidance toward different activities. The experience of play improved the boy's coping skills and motivation to try new experiences, which resulted in improved play skills within different environments and contexts. After the intervention, the boy demonstrated playful interactions with other children at the kindergarten, as well as with his parents at home.
Growing with Timocco was also used in a case study with a 4-year-old child with a suspected attention deficit hyperactivity disorder (ADHD), conducted at the Child Development Center in Haifa. The study aimed to assess the effect of the game on seated play activity and it alternated sessions with Timocco with conventional therapy for six weeks. The results showed fewer ADHD characteristics during the sessions with Timocco. Additionally, the child was less hyperactive and distracted while playing the game. Both behaviours were less present after playing Timocco as well.
Timocco was also used in a pilot study conducted at the Neurology and Child Development Unit, Clalit Health Services, in Haifa to determine the effect of the game on children with a range of developmental difficulties. Researchers tested about 65 children aged 3 to 7 who were diagnosed with ADHD, CP and other disorders. 90% of the children with ADHD consistently showed immediate improvement in their ability to keep their attention on structured 40-minute tasks, while 79% of the children diagnosed with CP were able to use their affected hand better than before and were motivated to continue using it.
Timocco was also found effective in the treatment of seniors at St. Patrick's Home of Ottawa, where a research study using Timocco's Timtrainer system was conducted by physiotherapists as part of a clinical intervention designed to improve seniors' sit-to-stand skill. Participants improved their sit-to-stand time by 30% after the intervention.
Timocco's applications are not limited to therapy. Researchers at the Department of Occupational Therapy, Tel Aviv University, used the platform as an analytical tool to investigate the connection between the motility (ability to move spontaneously) of the centre of pressure (COP) while using the dominant as opposed to non-dominant hand and while playing a dual game as opposed to playing alone. Similarly, a study conducted at the Department of Physiotherapy and Occupational Therapy, University of Haifa, showed that Growing with Timocco was both fun and a reliable diagnostic tool to assess different levels in children with typical development.
Watch the video below to learn more about the benefits of using Timocco in the therapy of children with different disorders.