Man&tel Rehabilitation Technology Uses Games to Enhance Patients' Recovery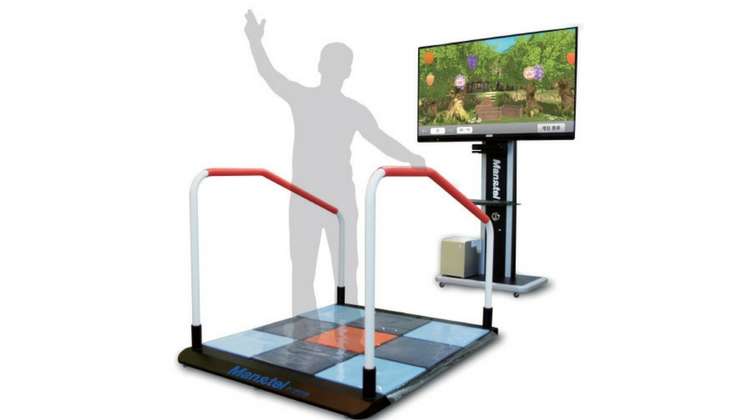 images: MAN&TEL
Man&tel develops advanced rehabilitation solutions that use interactive games to improve patients' balance, stability and strength.
Man&tel, a South Korean company that specializes in developing and manufacturing high-technology educational and rehabilitation equipment, offers a range of cutting edge solutions designed to enhance recovery.
The Trunk Stability Rehabilitation Robot Trainer is a medical device developed to assist in the rehabilitation assessment and training of post-stroke hemiplegic patients. The robotic trainer uses interactive games and a weight sensor to deliver effective trunk stability training and exercises to improve strength in the legs. The games available with the device challenge patients to catch virtual fruit, play basketball or test their archery skills from a standing or seated position. Clinical trials have shown that using the trainer has a positive effect on patients' cognitive ability.
The Upper Limb Rehabilitation Robot Trainer uses a robotic arm and offers active and passive exercises for the upper arm and shoulder. The exercises are delivered through games that require patients to move a hand icon on the screen to catch various targets or to move an aiming plate to practice clay shooting. The device offers real-time feedback and allows therapists to assess the patient's range of motion, muscle strength and overall performance.
The 3D Balance Trainer uses games to challenge patients to move their horizontal center of gravity or to train vertical bending to improve their balance. The device measures the left and right load and the degree of bending in the knee and evaluates the patient's body balance and progress over the course of rehabilitation.
The Sliding Balance Trainer is a rehabilitation device developed for patients who need lower limb training, but are unable to stand or sit. It offers leg strength training exercises specifically designed for bedridden patients, using games to increase the effectiveness of the treatment. The device can measure the difference between the left and right load and the vertical load to assess the patient's condition and improvement over time.
Developed for spinal rehabilitation, the Spine Rehabilitation Trainer delivers active training and measures the degree of spinal injury and recovery to determine the patient's status and progress. The games that come with the trainer make the recovery process more fun and the training level can be adjusted to each patient's ability and rehabilitation needs.
The Standing Balance Trainer was developed for lower limb training and offers a series of interactive games to improve patients' muscle power. The device disturbs patients' balance using a sliding panel and knee joint element. It has a hip support belt and knee pad to prevent falls.
Watch the video below to learn more about Man&tel's rehabilitation technology.