MindMaze Receives CE Mark for MindMotionPRO
BY: FG Team
15 February 2016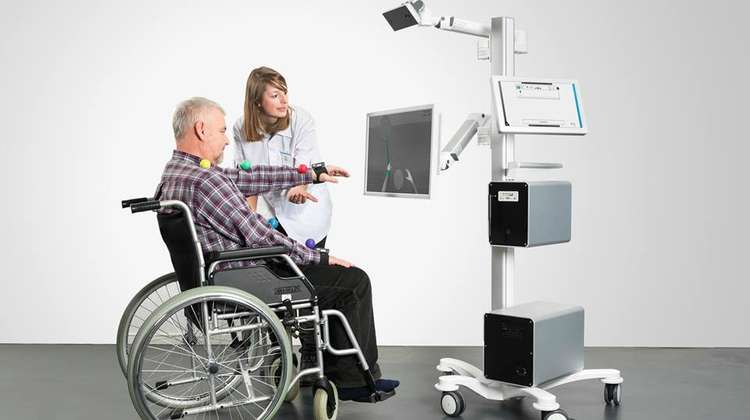 images: MINDMAZE
MindMotionPRO, a virtual reality solution for neurological rehabilitation developed by MindMaze, has received the CE Mark for use in hospitals and clinics in Europe.
MindMaze has announced receiving the CE Mark approval for its Immersive Virtual Reality (IVR) rehabilitation solution MindMotionPRO. MindMotionPRO, which was approved for use in hospitals and clinics across Europe in late 2015, is a hospital-based rehabilitation solution for early motor intervention in neurological patients. The system uses virtual worlds to immerse and engage patients in a series of repetitive and task-specific exercises tailored to their individual needs and designed to stimulate neural recovery.
Developed in collaboration with a group of neurorehabilitation experts, MindMotionPRO is a mobile system and can be used at the patient's bedside, enabling early motor training in the sub-acute rehabilitation stage. The system allows experts to design personalized training sessions from the acute through to the chronic stage of patients' recovery. It is an ideal solution for mirror therapy, which promotes recovery from severe hemiparesis in patients recovering after a stroke.
MindMotionPRO allows hospital staff to increase the amount of time patients spend performing the therapeutic tasks without requiring additional clinicians. To motivate patients to increase the amount of practice, the system gamifies the exercises, using rewards, multiple levels of difficulty and real time feedback. The games integrate visual feedback to guide patients through training sessions and to enhance movement accuracy, speed and trajectory.
MindMotionPRO comes with a standard package of VR-based exercises for training motor and cognitive skills after a brain injury or stroke. MindMaze's advanced motion capture and body tracking technologies record and map data in real time, providing clinicians with an accurate and objective evaluation of the patient's performance.
MindMaze is a Swiss company specializing in combining virtual reality, motion capture and neurophysiological recording solutions to create next generation interfaces for neurological rehabilitation, game training and 3D imaging in real time. The company builds on a decade of research and extensive knowledge of neuroscience, robotics and physics to deliver medical grade VR solutions to support patients in their desire for normal life.
Related news:
Virtual Reality Games Help Stroke Patients with Upper Limb Recovery
MindMaze Wins 3rd Place for Best Technological Innovation
World's First Neurogoggles Introduced at Game Developers Conference