MindMotion GO Increases Therapy Engagement and Adherence Through VR Games
BY: FG Team
28 December 2017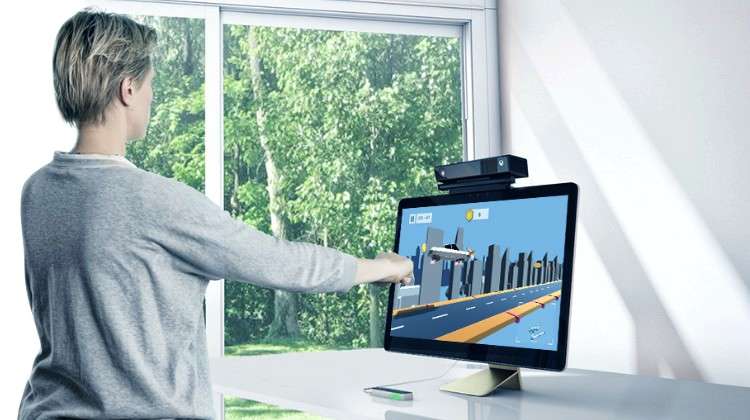 images: MINDMAZE
MindMotion GO is an innovative mobile neurorehabilitation system that uses a wide range of gamified therapeutic tasks to train motor and task functions and increase patient engagement and adherence to therapy.
MindMotion GO is a sophisticated therapy system that uses a variety of fun, game-like activities to train various motor and task functions. The rehabilitation platform was developed by Swiss technology company MindMaze to boost patients' motivation and level of engagement in order to increase the dose and intensity of prescribed therapeutic exercises. Designed specifically to keep patients exercising longer, the system helps increase recovery potential in neurorehabilitation.
The interactive games available with MindMotion GO were developed by neuroscientists for specialists using insights from the neuro-therapeutic field. The games use captivating effects and a 3D virtual environment to immerse patients in exercises, increase their adherence to therapy, and make the recovery process go by faster.
The system offers audio and visual feedback in real time to engage patients in their progress within the games. It also facilitates therapists' case load management by providing them with data that helps them assess patients' performance over time and plan future therapy sessions accordingly. The platform makes it easy for therapists to make decisions during the rehabilitation process and do more for their patients without putting in any extra work. It comes with a session manager that allows therapists to plan an entire therapy session.
The rehabilitation platform offers a large variety of therapeutic activities that can be used to train the complete range of body parts. The system is easily calibrated to the patient's range of motion to optimize the rehabilitation experience and facilitate larger doses of therapy, which are known to lead to more meaningful improvements. With the platform, therapists do not need to worry about keeping patients motivated throughout the recovery process because the exercises themselves are designed to do this. The platform allows clinicians to tailor rehabilitation programs to patients' ability, interests and performance.
MindMotion GO is very easy to use and takes less than 5 minutes to set up and calibrate. It was developed for use in clinical environments and is currently available in European markets, where it has already been tested with more than 300 patients across rehabilitation centres in the UK, Switzerland, Germany and Italy.