MusicGlove Proven Effective in Hand Function Recovery After Stroke
BY: FG Team
26 January 2015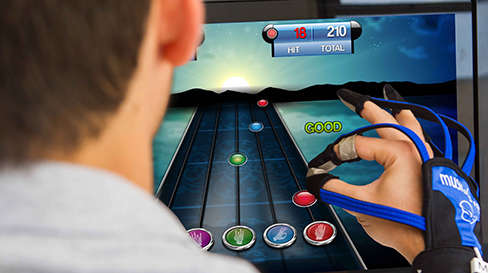 images: FINT REHABILITATION DEVICES, FINT REHABILITATION DEVICES FACEBOOK
The MusicGlove is a clinically validated hand rehabilitation device that uses music-based games to help neurological patients improve hand function.
The MusicGlove, a groundbreaking solution developed by Flint Rehabilitation Devices, is the world's first FDA-approved hand rehabilitation device that combines music and gaming to make therapy programs more effective and fun for people recovering from stroke or other neurological or muscular injuries. Flint Rehabilitation Devices specialises in developing safe, engaging and effective tools for rehabilitation that empower patients to reach their maximum potential in therapy. The MusicGlove was developed by a team of physicians and researchers who specialise in rehabilitation at the University of California in Irvine, where the company is based.
The MusicGlove uses a sensorised glove to track the patient's hand movements. Patients are asked to make specific functional grips to play a game and follow the scrolling notes on a touch screen. The notes are timed to the rhythm of upbeat, motivational songs to encourage patients to perform a high number of intensive and functional movements that are known to result in improved hand function. The movements are vital to regaining function after neural damage.
The clinically validated device has a wide range of benefits in rehabilitation. It helps increase patients' attention span, cognitive functioning, neuropsychological scores, recovery and overall well-being. A randomised controlled study with stroke patients published in the Journal of Neuroengineering and Rehabilitation revealed that users regained the ability to type on a keyboard, open doorknobs, wash dishes, and use silverware after exercising with the glove. Designed to help patients regain their independence, the MusicGlove offers a motivational therapy tool that helps them significantly restore hand function in only two weeks.
The device is portable and easy to set up and use, making it an effective tool for home-based therapy. As it only requires minimum intervention from a therapist, the glove allows clinicians to provide intensive group therapy without adding new staff. It also records accurate data that helps therapists track their patients' functional improvements and set new goals for them.
The MusicGlove doesn't require prior knowledge of computers and can be purchased without a prescription. It is available in both a Clinic Version and a Home Version. It comes with the glove itself, a dedicated 21-inch monitor (Clinic Version) or tablet (Home Version), custom headphones, connection cables, and a user manual.
The MusicGlove is used by some of the leading rehabilitation facilities across the United States and is supported by the National Institute of Health and the National Institute of Disability and Research Rehabilitation. Watch the video to learn more about its benefits.