NeuroAtHome Gamifies Rehabilitation with Kinect Motion Capture and Virtual Reality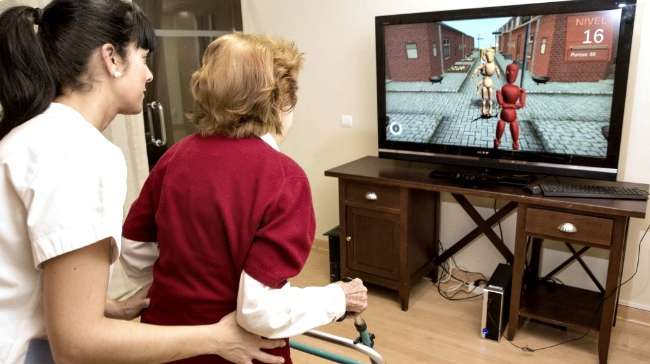 images: NEUROATHOME
NeuroAtHome is a rehabilitation platform that uses virtual reality and motion capture technology to treat the physical and cognitive deficits resulting from various neurological conditions and neurodegenerative disorders.
NeuroAtHome is a neurological rehabilitation platform designed to make therapy more efficient and accessible to people suffering from acquired brain injuries and neurodegenerative disorders. Developed by a multidisciplinary team of clinicians, the platform uses virtual reality, touchscreen interfaces and Kinect sensors to offer exercises and features that address the needs of patients with chronic health conditions and the clinicians treating them. With more than 80 exercise environments available, clinicians can use the platform in a range of physical and cognitive rehabilitation programs.
The physical rehabilitation module offers 40 exercises, including those designed to improve head control, weight transfer, unipodal, static and dynamic balance, hand-eye coordination, bimanual, alternating, simultaneous and static coordination, hip and shoulder range of motion, and muscular strength. The cognitive rehabilitation module contains more than 40 exercises that can be used in personalized treatment plans for visual and verbal working memory, semantic and short-term memory, distance estimation, sustained, selective and divided attention, reading, processing speed and visual perception. Each exercise comes with multiple personalization options, enabling therapists to adjust difficulty levels based on specific clinical objectives and patients' capabilities.
NeuroAtHome is not a video game in itself, but it gamifies rehabilitation and makes it more fun for patients to keep them motivated and encourage them to stick with their treatment plans. The platform monitors patients' movements and assesses the quality and completeness of each task, giving therapists objective data that allows them to measure patients' progress over time.
NeuroAtHome is designed for use in hospitals, care homes, outpatient centres, rehabilitation clinics and at home. The platform can only be used by qualified therapists and other healthcare professionals, but it allows them to implement treatment plans regardless of patients' location. Clinicians can personalize and modify the plans in the course of rehabilitation based on the patients' result and progress. The data collected by the platform during each therapy session is stored and can be accessed at any time for in-depth analysis.
NeuroAtHome is constantly updated with new features and personalization options in order to allow clinicians to get more relevant data from the rehabilitation sessions and enable them to plan more comprehensive treatment plans. Watch the video below to see some of the rehabilitation options available with the platform.