Racewood's RDA Simulator Allows the Disabled to Ride Safely
BY: FG Team
24 March 2015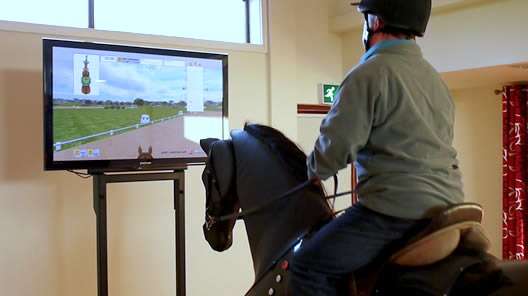 images: RACEWOOD
Racewood's RDA (Riding for Disabled) simulator allows people with disabilities to reap the benefits of physical activity by enjoying horse riding in a safe environment.
Racewood's RDA simulator is a five-speed horse riding simulator that allows people with physical and mental disabilities to enjoy horse riding in a controlled setting and reap the physical and mental benefits of a valuable form of exercise. In addition to being a challenging physical activity in itself, horse riding develops riders' confidence, concentration, stamina, coordination, posture, stability and strength, and provides them with a sense of achievement.
The riding simulator offers a highly realistic simulation of riding on a real horse and several other useful features, including therapeutic lateral action in all gaits, which helps develop the rider's strength and muscle tone, and a lower neck angle, which makes it easier for the rider to mount and dismount.
The RDA simulator also has special buttons that allow riding instructors to adjust the speed, and sensors to help with rein and leg control. The horse can serve as a fully interactive simulator, allowing riders to select the path to ride on, to ride to a screen, and take tests. The screen brings an entirely new dimension to the riding experience as it lets riders really immerse themselves in the arena and have fun while engaging in a vigorous physical activity that challenges their skills on multiple levels. The simulator can also be used to determine whether riding is a realistic option for people affected by complex physical problems before they are introduced to a real horse.
Racewood is a UK-based company that has been developing race horse simulators since 1990 and fully interactive simulators since 2006. Based in Cheshire, England, the company designs and manufactures simulators for riding, dressage and polo.
The RDA simulator is suitable for users aged 18 months to 77 years and can be used by people affected by cerebral palsy, autism, and a wide range of other conditions.