RehabWall Improves Functional Mobility with Virtual Games
BY: FG Team
13 December 2017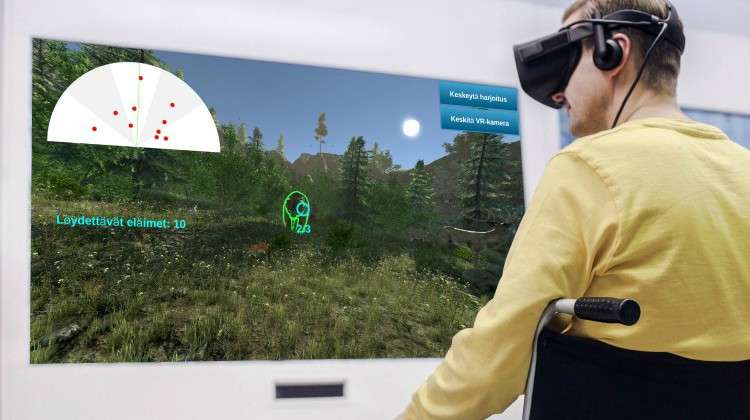 images: CSE ENTERTAINMENT
RehabWall is an innovative rehabilitation solution that combines virtual reality and interactive gaming technology with therapeutic exercises to deliver effective rehabilitation programs for physical and occupational therapy in rehabilitation centers, hospitals and retirement homes.
RehabWall is a state-of-the-art multiprofessional rehabilitation concept that uses interactive technology to make the recovery process easier, shorter and more fun for patients suffering from a variety of disorders. Developed by Finnish exergaming leader CSE Entertainment, the innovative rehabilitation tool brings together rehabilitation equipment, video gaming technology and virtual reality to enhance the rehabilitation process in hospitals, rehabilitation centers and retirement homes.
Virtual reality games for rehabilitation
RehabWall uses a touch screen, VR goggles and a wheelchair simulator to deliver a diverse range of therapeutic exercises that improve mobility, strength and other functions in patients with symptoms of paralysis, muscle weakness, reduced body control and other impairments.
The rehabilitation exercises currently available with rehabWall were developed for physical and occupational therapy, with new rehabilitation games and exercise modes being launched on a regular basis. The existing games were designed to improve patients' functional ability and can also address cognitive impairment through the perception and recognition exercises that come with the platform. The exercises developed to improve body and motion control use a motion-sensing camera to track patients' movements and ensure that they are performing them correctly. The system also offers exercises that can be used for the rehabilitation and prevention of memory diseases.
During training sessions, rehabWall provides patients with real-time feedback to motivate them and engage them in their recovery process. Once the session ends, the system displays a visual presentation of patients' results. It stores all exercise data and makes it easy for therapists to access it at any time to measure and assess the patient's progress and plan future therapy sessions for a more effective treatment.
The platform makes it possible for therapists to establish the patient's true baseline and provides them with comprehensive feedback from all the exercises. It also allows therapists to create personalized rehabilitation programs based on the patient's condition and to control the level of difficulty and duration of each exercise. All the exercises available with the rehabWall were designed with input from professional therapists with the goal to optimize treatment.
CSE Wall Series for active gaming and rehabilitation
The rehabWall was launched to an enthusiastic response at the Apuväline 2017 assistive technology trade show, held in Tampere, Finland from November 9 to 11 with more than 14,000 visitors attending during the three days. The product was also presented at the inaugural Future Fitness Lab, the world's first exhibition dedicated to VR fitness, which was held as part of Fitnessfestivalen in Stockholm, Sweden from December 1 to 3, 2017.
At the event, CSE Entertainment presented its CSE Wall Series, a range of advanced solutions for active gaming and rehabilitation that also includes tapWall and iWall. The tapWall uses touch screen games to challenge players' bodies and minds, while the iWall allows them to use only their bodies as game controllers and makes an efficient tool for simple workouts, intense training or just for fun.
While they weren't primarily designed for clinical use, iWall and tapWall can also be used in rehabilitation as they can both deliver significant benefits to people with disabilities. Developed to improve users' fitness level through fun interactive gameplay, the iWall comes with several preloaded games, some of which – SpaceShooter, HyperSlam and Deepsea Dash – can be played in a wheelchair. These games immerse players in unique virtual worlds and experiences that increase their motivation to exercise and at the same time improve a range of skills, including speed, reaction time, strength and endurance.
The touchscreen games available with tapWall are also accessible to wheelchair users. They deliver a solid upper body workout while also challenging users' hand-eye coordination, reaction time and cognitive skills, including sequencing, working memory and visual tracking.
All the products in the CSE Wall Series were developed in collaboration with therapists and professionals in the fields of fitness and sports. They deliver a fun, versatile active gaming experience, with a variety of body and brain workouts designed to improve users' balance, muscle strength, coordination, agility and overall cardiovascular health.
Watch the video below to learn more about rehabWall and some of the rehabilitation options available with it.