Rehawalk Delivers Innovative Gait Training for Neurological and Orthopaedic Recovery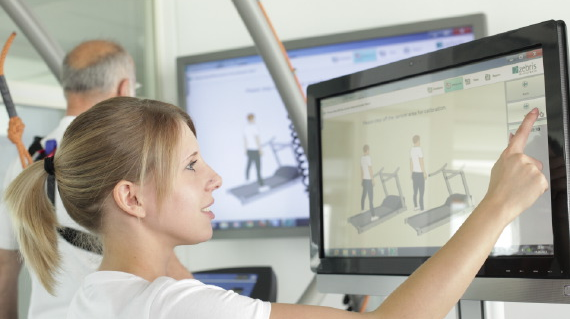 images: ZEBRIS MEDICAL
Rehawalk is an innovative rehabilitation device that offers gait training supported by dynamic visual stimulation to patients suffering from neurological and orthopaedic disorders, and helps them regain their mobility and restore their quality of life.
Rehawalk is a device designed to assist in recovery after surgery, stroke, Parkinson's, and other neurological and orthopaedic disorders and injuries. The device delivers a solution that is halfway between robot-assisted locomotion therapy and manual gait therapy. It can be adjusted to meet any patient's needs, from individuals in wheelchairs to those with limited mobility and patients who can walk.
Rehawalk offers innovative gait training supported by dynamic visual stimulation and physical therapist's instructions. It displays the ideal gait pattern on the treadmill during training sessions, which helps motivate patients to overcome their limitations and gradually learn to walk again. At the same time, physical therapists using the device are free to focus completely on the patient as they do not need to perform any manual repetitive tasks during therapy sessions.
Rehawalk includes an optional training module using a virtual forest course, called Forestwalk, which motivates the patient to keep doing the exercises. The therapist can analyse the patient's progress after each training session and adjust the program accordingly.
The device uses a four-phase concept to help patients restore their mobility: gait analysis, defining the training plan, gait training, and monitoring. It perfectly complements other concepts and its easy retrofitting allows different technologies to be configured to fit a wide range of applications.
Rehawalk was developed by zebris Medical GmbH, a company based in Isny im Allgäu in Germany that specialises in producing innovative professional systems for 3D movement analysis and measurement of force distribution. The company has distributers in 34 countries and its systems are used in clinics, medical practices,scientific institutions, and rehabilitation facilities.
Watch the video to learn more about Rehawalk and see the device in action.