ReoAmbulator Combines Robotic Gait Training with Virtual Reality
BY: FG Team
29 January 2015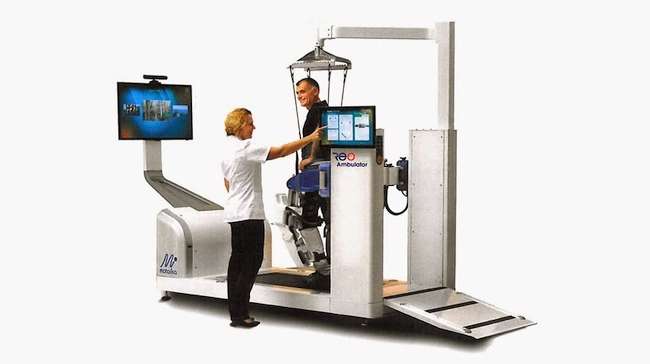 images: MOTORIKA MEDICAL, ZIARULOGOLINDA.BLOGSPOT.COM
ReoAmbulator is an advanced robotic gait training device designed to make rehabilitation more effective and engaging for patients suffering from neurological disorders.
Robotic therapy is becoming a popular alternative to traditional therapy programs these days because it not only engages patients in the rehabilitation process but also reduces treatment costs and makes physical therapists' jobs easier. ReoAmbulator, a robot-assisted gait training (RATG) device developed by Motorika, is one of the innovative devices that have been embraced both by patients and therapists in recent years for the variety of benefits they deliver. Motorika's robotic gait trainer is a sophisticated therapy tool created in cooperation with specialists at the HealthSouth network of rehabilitation hospitals.
ReoAmbulator uses advanced robotics to deliver Body Weight-Support Treadmill Training (BWSTT) to patients experiencing problems that are common to neurological disorders. The device was developed to help rehabilitation specialists address issues like balance, posture, coordination and ambulation. It uses synchronised robotic legs that generate the power to simulate normal gait patterns, helping patients move and walk safely. Walking speed can be adjusted to the patient's ability and increased over time as the patient makes progress in therapy.
ReoAmbulator uses multiple sensors to track patients' speed and power and adjust these to suit the patients' needs and physical requirements. The sensors automatically stop the machine if anything goes wrong during a therapy session. Additionally, ReoAmbulator encourages patients to keep performing their exercises with an interactive display that adds some variety to the repetitions and engages patients in fun virtual environments, increasing their motivation and compliance. At the same time, the motion tracking features provide therapists with an advanced treatment outcome assessment tool that helps them adjust the therapy program when needed. The device is suitable both for adults and children.
Founded in 2004, Motorika specialises in the development of innovative robotic therapy solutions for patients suffering from neurological conditions including stroke, spinal cord injury, and traumatic brain injury, as well as from post-surgery and orthopedic dysfunction. The company's rehabilitation tools for the upper and lower extremities actively engage patients in rehabilitation programs to deliver effective treatment and improve limb function. With several hundred installations worldwide, Motorika's rehabilitation products have been used in more than 2 million individual therapy sessions.
Watch the video to see ReoAmbulator in action.