Toyra Introduces Virtual Reality to Occupational Therapy
BY: FG Team
5 February 2015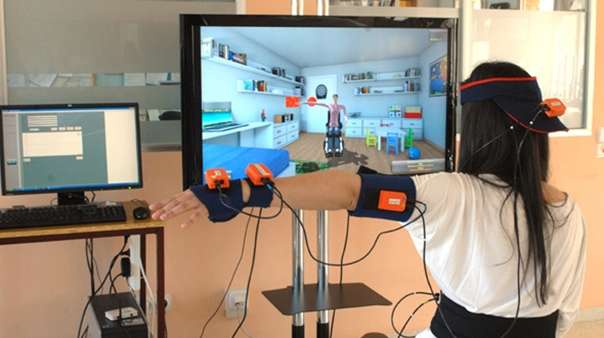 images: INDRA, TOYRA; DIGITALAVMAGAZINE.COM
Toyra is an advanced upper extremity rehabilitation platform that uses virtual reality, motion capture and healthcare information technology to deliver interactive exercises tailored to individual patients.
Toyra is an innovative virtual rehabilitation platform designed to increase patient motivation and deliver a range of effective therapy exercises to patients with impaired function of the upper extremities. The system was designed to facilitate occupational therapy and improve the quality of life of patients with spinal cord injuries. The interactive exercises available with Toyra were developed by rehabilitation specialists to ensure proven results and recovery.
The rehabilitation platform uses motion capture technology to collect key clinical data that helps therapists get objective insight into the patient's progress and rehabilitation status. Motion sensors capture the patient's movements during therapy sessions, sending location and position data to the system, which is then able to recreate the movements in the virtual world, as well as analyse and assess them.
Toyra also offers a rehabilitation record management platform, allowing therapists to analyse patients' results and use the insights to adjust their treatment. The data stored by the platform can be used in clinical trials as it provides a scientific base that helps rehabilitation specialists continually improve various therapy programs.
Toyra consists of two sub-systems: the central server and the therapy stations. The central server, which serves as the objective therapy management sub-system, collects and manages all the patient data, enabling therapists to revise results and prepare automated reports. The therapy stations, which comprise the interactive objective therapy sub-system, come in two different versions: one for use in a hospital environment and another for outpatient or home application. Therapy stations send the results of the therapy sessions to the cental server and can be operated by patients themselves. This allows therapists to manage more than one patient at a time.
The Toyra rehabilitation platform was developed by Indra, a leading Spanish consulting and technology company that specialises in developing innovative technologies that create value for clients. In addition to the healthcare sector, the Madrid-based company provides services and solutions to the telecom, media, financial services, security, public administration, energy, transport and traffic sectors.
Toyra was developed in cooperation with the Rafael Del Pino Foundation and the Foundation of the National Paraplegic Hospital of Toledo for Investigation and Integration.