Tyromotion Introduces Virtual Reality to Robotic Therapy to Facilitate Stroke Recovery
BY: FG Team
15 April 2016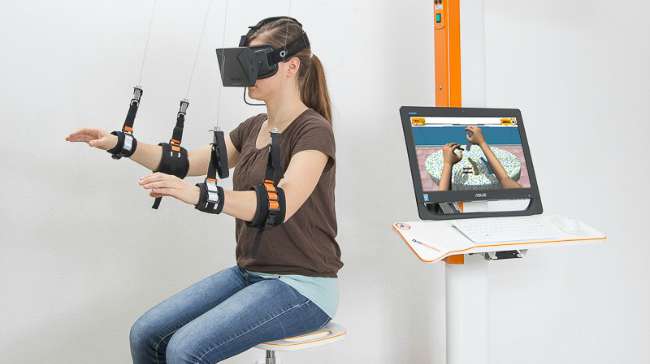 images: TYROMOTION
Rehabilitation technology leader Tyromotion has developed a rehabilitation device that combines virtual reality with robotic therapy to make stroke rehabilitation faster and more efficient.
Tyromotion has created a rehabilitation device that uses a bilateral 3D arm robot and virtual reality glasses to fully immerse stroke patients in virtual worlds where both the visual and physical environments can be shaped. The device is designed to help patients with limited arm function perform daily tasks by challenging and encouraging them to increase their range of motion and the number of repetitions during their therapy sessions. Both these elements are vital to motor learning.
The introduction of virtual reality into therapy delivers a 3D training environment that can be adapted to each individual patient's abilities. The virtual setting has a gaming element to it, which helps motivate patients to keep repeating their exercises.
Tyromotion's device is currently being tested by leading rehabilitation facilities in Europe and the United States. The initial reports from therapists and doctors have been very positive, indicating that the new approach to therapy has a strong potential to transform it by increasing patient motivation and making therapy programs more cost effective across the board.
Diego, the robot-assisted arm rehabilitation device used to deliver VR therapy, is the world's most versatile arm-shoulder rehabilitation device, one that combines robotics with intelligent gravity compensation (IGC) and virtual reality to help patients regain lost arm function. The device offers passive, active and assistive, uni- and bilateral applications that are easily adapted to meet the needs of each patient.
The gravity compensation feature makes heavy arms lighter, allowing physiological movement of the arms in every phase of rehabilitation. The device gives patients more room and more freedom to move and is particularly well suited for task-oriented training with real objects.
Diego offers a versatile range of therapy options with interactive therapy modules that provide haptic and audiovisual feedback, immersing patients in motion in the virtual environment. The therapy modules have different levels of difficulty, which motivates patients to keep making progress. Their progress is then recorded to make their achievements visible.
Diego is suitable for patients of all ages and can be used in all phases of arm rehabilitation. Watch the video below to learn more about its features and benefits.