VirtualRehab Hits Important Milestone with 10,000 Game Sessions Played
BY: FG Team
9 February 2015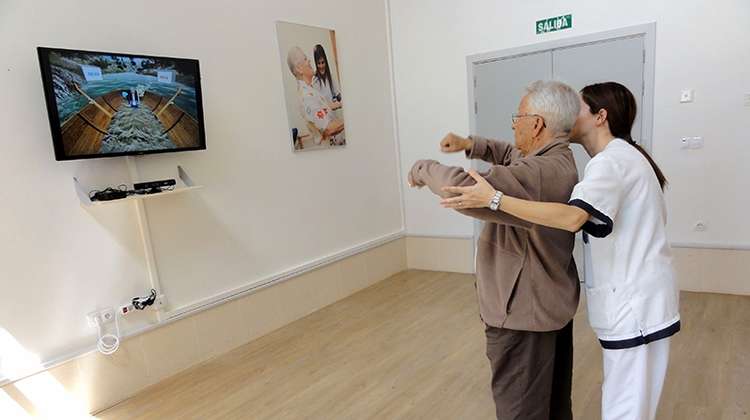 images: VIRTUALREHAB
Virtualware is celebrating a major milestone as the company's groundbreaking VirtualRehab platform has exceeded 10,000 game sessions played.
VirtualRehab, the innovative rehabilitation platform developed by Virtualware, has reached an important milestone, exceeding 10,000 game sessions and 1,000 hours of games played by patients in rehabilitation centres that are using the platform. This is a major achievement for Virtualware, a group of technology companies specialising in developing interactive, immersive technologies that improve the delivery of health care.
VirtualRehab, the first VR-based rehabiliation platform to receive medical device CE mark approval from the European Commission, is designed to help with the rehabilitation of patients suffering from neuromuscular, neurovascular and neurodegenerative disorders, including Alzheimer's disease, Parkinson's, cerebral palsy, MS, stroke, and brain and spinal cord injury.
The platform uses virtual games and motion capture rehabilitation software to help neurological patients improve their mobility and transform their experience of physical therapy. With the arrival of the Microsoft Kinect v2, VirtualRehab can offer even more accurate tracking and monitor more joints, which provides therapists with the objective data they need to plan and adjust future therapy sessions and to monitor patients' progress over time.
As a result of offering a great user experience and making therapy seem less difficult, VirtualRehab has seen a lot of success with patients who have used it as part of their daily activities. The telerehabilitation option in particular shows a lot of promise, as it allows patients to do their exercises at home and on their own schedule, which saves them both time and money.
Virtualware has installed the platform in a number of major hospitals and clinics across Europe, including the National Hospital for Neurology and Neurosurgery in London and the Centre of Comprehensive Neurological Care in Pamplona, Spain. The group now aims to integrate the platform into the standard therapy process in hospitals and rehabilitation centres around the world.
The latest rehabilitation facility to introduce VirtualRehab to its patients is Denken, a centre specialising in detection, prevention and therapy of patients suffering from cognitive diseases. Based in Barcelona, the Denken centre uses a variety of non-pharmacological treatments to help patients and the elderly improve their neurological functions, and Virtualware's platform is an excellent fit for the centre's treatment philosophy.
"We've integrated VirtualRehab as part of the cognitive rehabilitation programs offered by our centre," said Italo Maione, Director at Denken. "This tool allows us to design a motor-based strategy to complete sensorial and cognitive treatments and offer an integral focus on the mind-body-senses. The main advantages of using this platform include the engagement with the patient, the control and monitoring of the sessions and the comprehensiveness of the solution for rehabilitation".
In addition to continually improving VirtualRehab, Virtualware is currently developing several new healthcare innovations, including an interactive therapy solution for early dementia patients and new training solutions for healthcare professionals.