Yalp's Interactive Playground Installed in Nursing Home
BY: FG Team
10 December 2013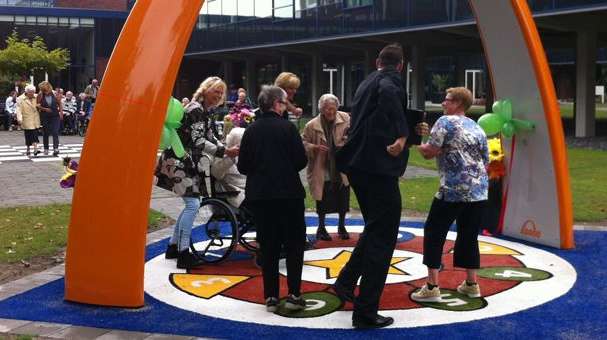 images: YALP
Yalp's interactive playground will keep seniors at the St. Elizabeth nursing home fit and provide them with a fun activity they can enjoy with their families.
Residents of the Sutfene nursing home St. Elizabeth in Zutphen, a city in the Gelderland province in the Netherlands, will get a new way to exercise and have fun at the same time when Sona, Yalp's active sound game system designed for use on playgrounds, is installed at the facility on December 20. Sutfene is an organization that provides services in assisted living and specialized care in the region, dedicated to supporting the independence of seniors and improving the quality of their life. Yalp's Sona has been a proven success, with more than 45 units currently in use in the Netherlands, Sweden, Finland, and Denmark. The system has been extensively tested and is very stable, easy to maintain, and safe for all users, which makes it a very good choice for nursing care facilities as well as children's playgrounds and day care facilities. The software can be regularly updated to add new games and sounds so that users never run out of options and new modes of play.
Exercise has a vital role in keeping seniors active and physically fit, and fun active games like Sona also help them stay mentally fit and offer seniors an engaging social activity in a stimulating environment that they can enjoy with their friends and family. Some of the games available with Sona have different difficulty levels, allowing players to be challenged throughout the game.
Yalp's interactive gaming system is designed to provide inclusive play, and can be used by people in wheelchairs as well as those suffering from dementia and other types of cognitive dysfunction. Sona is also very popular with kids, which means that nursing home residents can enjoy a variety of interactive games with their grandchildren when they come to visit.
Sona provides a wide range of interactive gaming options and it uses sound and movement to provide players with feedback. An integrated motion camera located at the top of the arch detects players' movements as they move around the floor. The playground system comes with nine different games and a variety of possibilities to choose from, from tactics and reaction games to speed and dance games. Yalp's interactive playground system is resistant and easy to use, and it offers users a fun way to engage both their cognitive and motor skills and to stay physically active. The active games that come with Sona were developed with a few basic rules, but each game leaves enough room for variations, allowing players to be creative and providing them with a versatile range of choices and activities.
In 2013, 11 care facilities in the Netherlands have installed or plan to install Sona to help break passivity among the residents and provide them with a new way to enjoy themselves outdoors. The reactions so far have been extremely positive. Watch the video to see the system in action.