YuGo Platform Gets Positive Results with Young Cerebral Palsy Patient
BY: FG Team
29 December 2014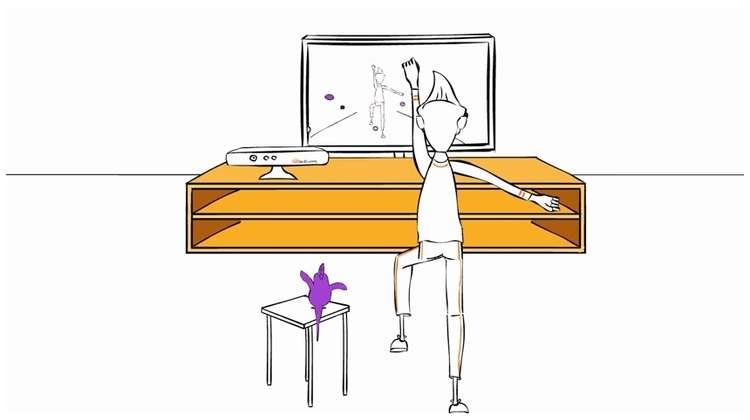 images: BIOGAMING
In a new case study, a 9-year-old cerebral palsy patient has reached her initial therapy goals using BioGaming's innovative YuGo platform.
BioGaming's YuGo rehabilitation platform is being used in a new case study to determine the effect of therapy with virtual reality games on a young cerebral palsy patient suffering from right hemiparesis. The 9-year-old girl gets most of her therapy sessions on a yearly basis from her NH provider, but to stay in good shape, she needs to do her exercises on a weekly basis. This is where YuGo comes in.
The goal of the case study is to improve the patient's aerobic condition because she gets tired after a 300 metre walk. In the first session with YuGo, she played the Racy game at an easy level, which allowed her to learn the exercises without providing negative feedback for not doing them correctly. Once she performed them correctly a certain number of times, she was challenged to play the game with tighter gesture recognition.
During the following session with the virtual reality platform, the patient made significant progress, winning the first place in the race and moving into the two tracks mode. She stopped twice to rest briefly after her heart rate went high, but was able to continue the game in less than a minute. YuGo allowed her to play for almost an hour including short breaks.
The award-winning rehabilitation platform uses Kinect-based video games and offers gamified physical therapy exercises with immediate biofeedback, encouraging patients to stick with the program and keeping them informed on the progress they are making.
The virtual reality games are designed to address patients' rehabilitation needs and make them forget about their injuries and limitations. The interactive element of the games and the performance feedback motivate patients to only think about reaching the next level of the game. The system is easy and intuitive, and it both challenges and rewards patients to keep them immersed in the games and not focusing on the effort that they are putting into the exercises.