Archery Games Brought to Your Smartphone
BY: FG Team
26 November 2013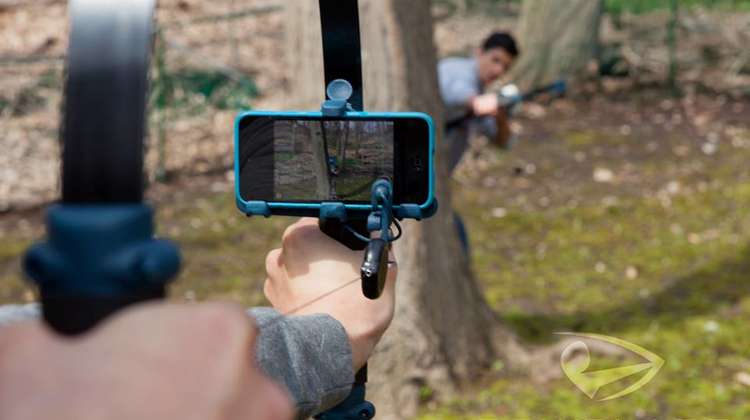 images: BOWBLADE Facebook Album
The BowBlade Archery Gaming Console combines video gaming with bow and arrow skills and makes it possible for you to play first-person shooter games using just the archery console and your smartphone. BowBlade can be used with most Apple iOS, Android, and Windows smartphones, and the games can also be played on Apple TV.
BowBlade offers a dynamic gaming experience to those looking for a test of their agility and a good physical challenge, as well as for a fun way to compete with other players. Designed by Bow Active, BowBlade's motion-sensitive virtual archery experience demands a physical effort from the player in order for him or her to control the game and it allows players to enjoy archery games without leaving the comfort of their home. The player just needs to choose an application, mount a smartphone on one side of the BowBlade, find a target, draw back the bow, and release the trigger. Smartphones are mounted on an adjustable clip, and the action of the bow triggers a fake stylus that touches the phone.
BowBlade provides players with an opportunity to develop their archery skills using virtual targets in a virtual hunting or combat environment, which means that players do not face the risk of getting hit with a real arrow. BowBlade archery games provide exercise for the shoulders, arms, back, and chest, and they are best played standing up. The games can be played by anyone over the age of 10, and parents will no doubt appreciate the fact that children are far less likely to get injured using the BowBlade archery console than they are when using real bows and arrows.
BowBlade is made of very strong material and will not break as long as it is used properly. The bow is made of flexible interconnected blades that create a variable draw tension between 1 and 17 pounds, which makes BowBlade a solid exercise device, one that can be used for resistance workout unrelated to archery as well. The console comes in three sizes, based on the players' height: small (4'10'' to 5'4''), medium (5'5'' to 5'10''), and large (5'11'' to 6'3''). While it does not provide the same fitness benefits as some of the more hard core fitness gaming devices, unlike most of these, BowBlade is portable and the games can be played on the move.
For those who like to keep track of their gaming activities, there is the Bowometer, which functions like a pedometer, but instead of counting steps, it measures the number of bow pull repetitions, the calories burned, and the total weight pulled during the gaming session.
BowBlade comes with a wide range of gaming applications to choose from. These include Ace Hunter, TF3 Battle Zone, Ace Sniper 3, Zombie Attack Shooting Game, Aliens Everywhere, Archer Master, Arma Firing, iSmasher, iCommando, iHunt 3D, PirateBay, Laser Tag AR, Spearfishing 3D, and many others. There are 30 apps available for Android and 58 avaiable for the iOS platform, with new apps being added regularly.
For those looking for fun activities to do over Thanksgiving, Turkey Blast: Reloaded is one of the many games that are compatible with BowBlade.