Coreyak Brings Rowing and Kayaking Indoors
BY: FG Team
17 February 2017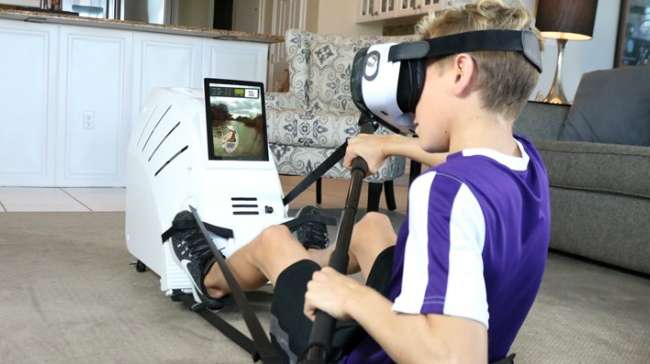 images: COREYAK
Coreyak is a compact home fitness solution that uses high definition video and virtual reality to simulate outdoor rowing and kayaking.
Coreyak is a home fitness device that brings the experience of rowing and kayaking right into the user's living room. The compact fitness machine is the first personal training solution that combines the adventure sport of kayaking with video games and motion detection technology. The device connects with VR goggles and TVs to immerse users in impressive virtual environments and enable them to interact with these in real time, while simulating real paddle movement within different virtual games.
Developed by the Florida-based company Coreyak LLC, the device connects with Coreyak apps on tablets and smartphones using accelerometers and wireless technology to track the user's performance and connect with VR goggles. Accelerometers track the movement of the paddle and the data is then transmitted wirelessly to tablets, TVs or VR goggles, translating users' movements into actions on the screen. Users can reap the benefits of a good workout while playing competitive video games and enjoying highly immersive high-definition and 360-degree VR point-of-view kayaking videos.
Both rowing and kayaking have a versatile range of benefits. Indoor rowers are among the most effective cardio machines, requiring sustained effort from both the upper and lower body, developing strong muscular endurance, and improving the user's cardiovascular health and stamina. Kayaking also burns a lot of calories while toning almost every muscle in the upper body, as well as the core and legs, and improving the user's posture in the process. Both activities are very good at reducing stress.
Coreyak uses variable resistance to mimic the feel of paddling on the water, while the companion app ensures that users know proper paddling form. The app also tracks a number of parameters, including time, distance, power and strokes. Users can see their stats on their smartphone or tablet while exercising, which gives them additional motivation to keep paddling.
Coreyak is expected to hit the market in 2018. Watch the teaser below to see some of the workout options available with it.