D.I.C.E. Europe 2014: Report
BY: FG Team
30 September 2014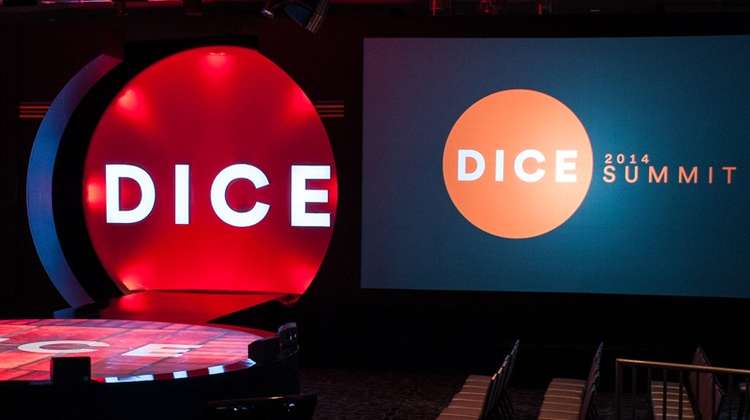 images: DICE EUROPE
D.I.C.E. Europe 2014 was held on September 23 and 24 in London in the UK. The two-day event hosted a number of speaker sessions and networking events for visitors.
D.I.C.E. Europe 2014, held for the second year at the Royal Garden Hotel in London on September 23 and 24, brought together some of the leading minds in the video game industry. Developers, creatives, executives and other games industry professionals attended the event to explore new networking opportunities and hear from other industry leaders on the latest business strategies. Attendees also gained insight into the new markets and demographics, and the strategies to reach and serve new customers. Industry leaders shared insights into their latest innovations and the steps their companies are taking to make sure that they stay ahead of the competition.
D.I.C.E. Europe featured a number of presentations on future technologies, new business models in the games industry, and methods that lead to success. The event hosted more than 250 C-level executives, giving attendees a chance to meet some of the industry's major players and find potential partners and collaborators. The companies represented at D.I.C.E. Europe included Microsoft, Sony Computer Entertainment Europe, Sony PlayStation, Nintendo of America, Google's Niantic Labs, SEGA Europe, Nexon America, Ninja Theory, Blizzard Entertainment, Ubisoft Montreal, Insomniac Games, and Devolver Digital.
Keynote speakers included Phil Harrison, corporate vice president at Microsoft, who shed some insight into the creative process at the company's European Studios. John Hanke and Flint Dille from Google's Niantic Labs discussed the development of narrative using the Ingress platform and the storytelling aspect in games and web content. Dave Ranyard, Sony's London Studio director, discussed the future of virtual reality with a focus on the ground-breaking VR tool Project Morpheus, while Jonathan Morin, creative director at Ubisoft Montreal, highlighted the importance of listening to others and challenging one's own creativity in the development process.
There were plenty of opportunities to network, as the event hosted a Go-karting tournament, several exclusive networking functions and two parties.
D.I.C.E. Europe is organised by the Academy of Interactive Arts & Sciences (AIAS), a not-for-profit organisation dedicated to promoting excellence in the global interactive entertainment industry, and Video Games Intelligence (VGI), a research and networking company serving the video games industry.
D.I.C.E. (Design, Innovate, Communicate, Entertain) is different from other conferences and events in the games industry as it emphasizes the industry's business and production side. The D.I.C.E. Summit, established in 2002 by AIAS, takes place in Las Vegas, Nevada every year and is consistently sold out. The D.I.C.E. Europe event, first launched in 2013, now provides industry professionals with the same opportunities to learn and network on the other side of the pond.