Interactive Training with Sensamove's Wobble Board
BY: FG Team
11 January 2013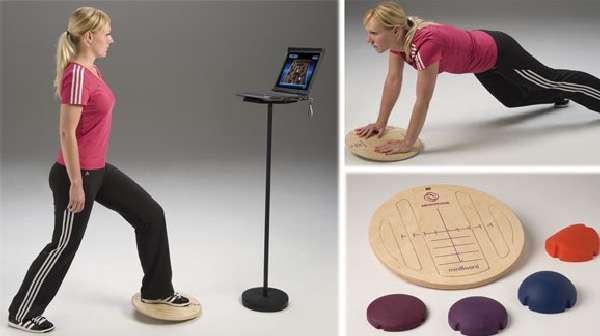 images: HITECH THERAPY
Sensamove has posted an instruction video for the Sensbalance Miniboard, the company's interactive wobble board.
Sensamove's interactive balance board provides users with the benefits of a regular wobble board combined with interactive training software and active games, which add an element of excitement to the balance workout sessions. The Sensbalance Miniboard can easily be customized to suit the user's needs and abilities, which makes it a widely applicable tool in sports training and rehabilitation. The software that comes with the board has measuring and archiving functions, and can be used to diagnose, track and compare the user's performance to see how it improves over time. The tlting angle and difficulty levels can be easily adjusted using exchangeable rubber accessories which are also available with the Miniboard.
Wobble boards are an excellent fitness tool as they challenge your muscles in an entirely different way from other fitness devices. The Sensbalance Miniboard and similar interactive fitness tools not only help tone and sculpt your muscles, but also develop your balance skills, stability, leg and core strength, and agility. Some of the common exercises include squats, push-ups and sit-ups, which are all much harder to do on a wobble board than on a flat surface because more muscles are engaged in each movement.
Regular use of a wobble board can significantly improve strength in your muscles, ligaments, and tendons. The workouts also improve proprioception, i.e. the ability to sense movement, location, and orientation of the body based on the stimuli coming from within the body itself, which is strongly linked to balance. As they provide a variety of benefits, wobble boards like the Miniboard are widely used in sports training, child development, injury prevention, rehabilitation, and physical therapy.
The Sensbalance Miniboard comes with exercise sheets which contain guidelines on using visual feedback for stability training, core workouts, and exercises for individual muscle groups. The gaming software available with the board contains 18 training levels and 10 easy levels, making training on the Miniboard both accessible to beginners and sufficiently challenging to athletes. The ability to progress to higher levels has a very positive effect on motivation, frequency, persistence, and ultimately on the effect of the workouts and exercise routines.
To see some of the exercises you can do using the Sensbalance Miniboard, watch the video.