Kinetic Precision Bike Trainers Offer Superior Outdoor Ride Simulation
BY: FG Team
16 March 2015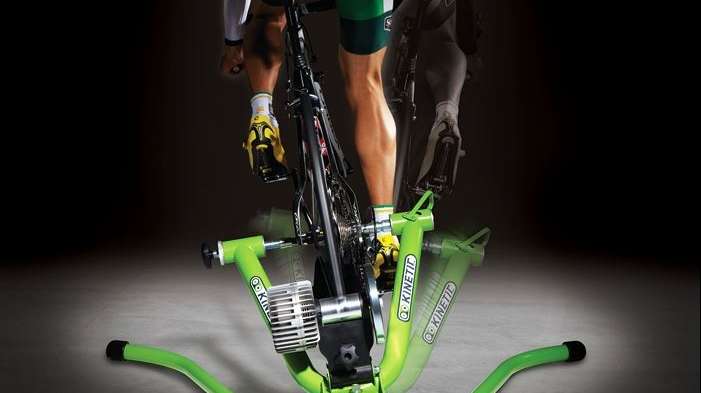 images: KURT KINETIC
Kinetic bike trainers use fluid resistance technology to deliver the most realistic simulation of an outdoor ride available on the market.
Kinetic bike trainers are among the most sophisticated mechanical bike trainers currently available on the market. They use patented fluid resistance, a technology that sets the standard for consistency and reliability in the fitness industry, and combine it with precision engineering to offer indoor cyclists an exceptionally accurate simulation of an outdoor ride. In addition to being an highly effective fitness tool, the indoor trainers have an innovative design and are quiet, which makes them a practical solution for use at home.
Fluid resistance, which sets these trainers apart from other indoor bikes, offers an extremely realistic experience of real terrain during training. The technology makes workouts very simple. Riders can put the trainer in an easy gear if they want to warm up and, when they are ready to increase the intensity of the workout, they can simply start pedalling harder and resistance on the trainer will increase to match their effort.
Kinetic trainers also let cyclists do interval workouts as if they were riding outside. They can just pick up the pace and resistance will automatically make it harder for them to pedal. The technology offers more efficient training sessions which, in turn, helps riders develop more power in their legs.
The trainers use medical-grade silicone to ensure that they don't heat up and decrease resistance in the process. The thermodynamically neutral material keeps the resistance curve even throughout a training session regardless of temperature.
Kinetic trainers were developed by Kurt Manufacturing, a Minneapolis-based company that got its start in the cycling industry by manufacturing frames for a competitor's trainer. Today, the company is using its expertise and experience in precision manufacturing to develop its own models. The Kinetic trainers were originally launched on the market in 2000 and underwent a complete redesign in 2013 to meet the needs of the evolving market. They come with an unconditional lifetime warranty.
Watch the video to learn more about the trainers and see the technology in action.