Lil Monkey Dome Climber Brings Active Play to Your Back Yard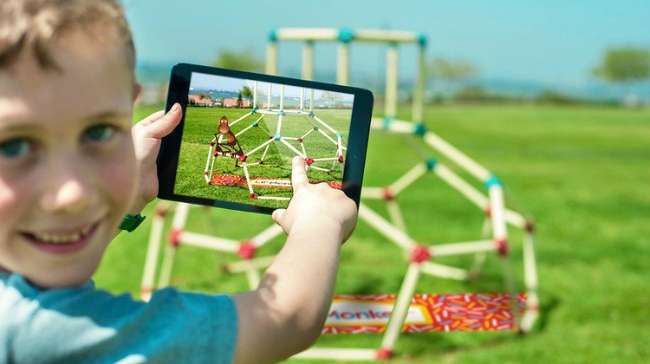 images: LIL' MONKEY
The Lil Monkey Dome Climber is a dome designed to bring hours of active play to the back yard and transform any outdoor space into a children's playground.
The Lil Monkey Dome Climber is a safe, durable structure that offers plenty of room for kids to climb, swing, play and get some exercise for hours. It is an excellent solution for parents who want their children to get some exercise outdoors every day. Developed for use in the back yard, the Lil Monkey is stable and very easy to assemble. To immerse kids in active play, it comes with a free app that introduces a virtual game designed to improve children's motor and cognitive skills.
The Lil Monkey app can detect the child's position on the dome and it presents a virtual character – a Lil Monkey – to give the child instructions. The character tells kids to feed him fruits, discover treasure and collect points. These virtual objects may be located anywhere within the structure and kids win points for completing objectives as quickly as possible. As they do so, they move on to the next stage of the game. The overall objective is to complete all 28 stages of the game within a set time limit.
The Lil Monkey Dome helps develop kids' agility and cognitive skills and can also be used for role play or simply covered with a sheet and turned into a play den. It is designed for children aged 3 to 6 and, with a height of 118 cm, the structure is low enough to the ground to be safe. It is weatherproof and can easily be transported around the yard.
Lil Monkey was developed by an Israel-based company dedicated to manufacturing innovative toys that keep children active and help them develop physically, mentally and emotionally. The company's staff of toy experts have more than 15 years of experience in developing safe, durable products that motivate children to move.
Watch the video below to learn more about the Lil Monkey and see how the interactive game works.