Little Mighty Gym Encourages Active Play with Zombies and Running Games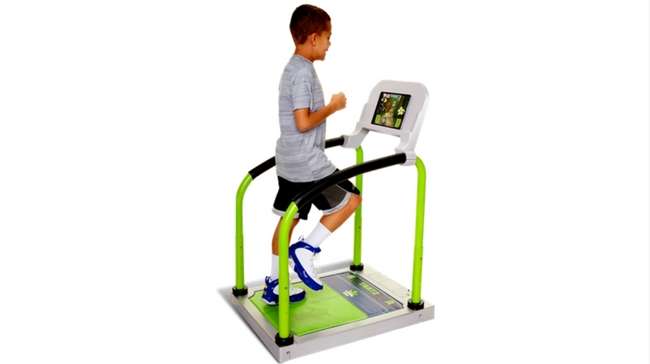 images: JAKKS PACIFIC, ANDY KREISER VIMEO, SCATTERED ADVENTURES YOUTUBE
The Little Mighty Gym is an innovative gym toy that allows kids to challenge themselves with active games displayed on the screen of their mobile device.
The Little Mighty Gym, a gym toy developed by JAKKS Pacific, is a unique exercise pad that makes it possible for kids to engage in various game-like sporting events using their mobile device. Kids can use the platform to challenge themselves physically on a number of virtual courses, including running trails, track and field, and even a zombie escape challenge course.
The Little Mighty Gym is shaped like a workout machine that roughly resembles a treadmill and allows kids to run and jump to control their onscreen characters and test their skills in various virtual games. The Mighty Runner, an interactive gaming system developed for the platform, will provide kids aged 5 to 10 with a range of gaming options that combine physical play with digital games. Controlled by the players' feet, the system will include a free Android and iOS app that uses Bluetooth to connect with the platform. The Little Mighty Gym will allow kids to customize their virtual characters to represent them more accurately. Kids will have thousands of combinations to choose from, including gender, outfit, accessories, hair and eye colour and hair style.
The first edition of the platform will challenge kids to jump, slide, run and collect gold coins while avoiding obstacles or zombies. As they collect coins, kids will progress through the game to discover new virtual worlds and be rewarded with new accessories that they can add to their profile. The Mighty Runner will initially offer players three worlds to choose from: Track and Field, Amazon Adventure and Zombie Dash. Each of these will challenge them with diverse terrain and multiple difficulty levels.
The Little Mighty Gym was unveiled at the 2017 New York Toy Fair in February and will be released later this year. Watch the video below to see how the platform works.
JAKKS Pacific specializes in designing, manufacturing and marketing entertainment-inspired products, toys and other consumer products. Based in Santa Monica, California, the company is dedicated to creating inspiring products that have a positive impact on children's lives.