New Goji Play Announced
BY: FG Team
20 December 2013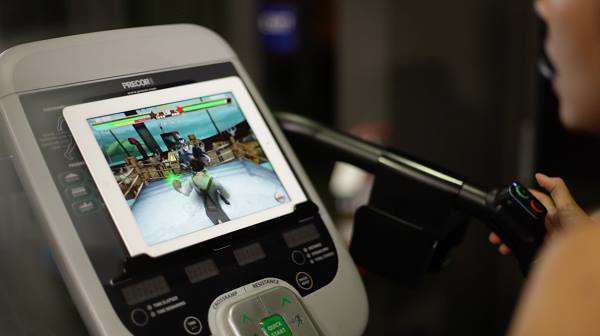 images: BLUE GOJI, FACEBOOK
Blue Goji has announced the launch of Goji Play, a new device designed for use on fitness machines.
Blue Goji, a new fitness gaming company started by Kai and Charles Huang, the creators of Guitar Hero, has announced the launch of Goji Play, a set of wireless game controllers and an activity sensor which allow users to play games while exercising on a stationary bike or a treadmill. The time spent exercising just speeds along, as the games provide a fun distraction from the physical effort required to sustain a steady pace on a cardio machine, effectively turning regular exercise equipment into video gaming platforms.
"One of the things we learned back in our days working on Guitar Hero was really how great games can immerse people and inspire them," the Goji Play creators told TechCrunch. "And that's not only to have fun, but also to get more active. We really are all about active gaming and so after we moved on from Activision, we started to have this interest in health, fitness, and wellness."
"Most people think of workout equipment as boring and monotonous. You are basically staring at a wall for 30 to 60 minutes. So we really wanted to change that experience and make it more fun using our expertise in making great games."
The set of game controllers, available for $99, are equipped with Velcro straps which can be used to attach the controllers to a variety of fitness equipment, ranging from elliptical machines and bikes to treadmills. Users also get an activity tracker that shows them how fast they are moving and motivates them to work out harder to get better scores in the game.
To use Goji Play and to be able to access the library of games available for the device, one needs an iPhone, iPad, or iPod Touch. Each set can be used by multiple users as it can handle their individual social profiles, fitness goals, and favourite games. Goji Play connects to iOS devices via Bluetooth 4.0 and the activity sensor can be attached to players' shoes or pocket to monitor their activity. The device tracks the player's calories burned, time elapsed, and distance travelled, and it allows users to set fitness goals and monitor their progress. The game controllers can be attached to cardio machines or just wrapped around the foam batons that are available with the system, which the user then holds onto while exercising.
Like other active games, Goji Play rewards players' effort with progress in the game, and what makes the games effective are the correlation and balance between the intensity of the physical activities on the one hand and the immersive nature of the games on the other. The games available for the new device include racing games like Spin and Die and Moto X, and the boxing game Fisticuffs. Twelve games are available at the moment and more titles are in development and will be released down the line.
"Going back to our founding of Guitar Hero, we've witnessed how the fun of games can inspire the masse to be more active and social," says Kai Huang, Blue Goji CEO. "Goji Play is the culmination of our dream to encourage people to get fit by fusing games and cardio equipment."
Watch the video to see Goji Play in action.  
Source: TechCrunch