Peloton Brings Group Cycling Classes to Your Home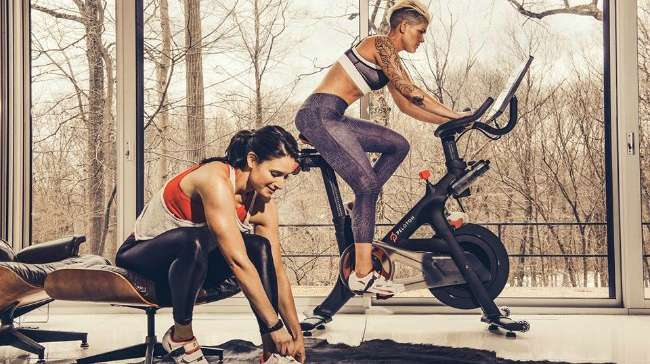 images: PELOTON INTERACTIVE
Peloton delivers interactive, socially connected indoor group cycling classes with a variety of features and options right to users' homes.
Peloton, a New York based company specializing in developing technologies that bring a world-class indoor cycling studio experience right to users' living rooms, combines innovative technology with ergonomic fitness equipment to offer users at-home workouts that always fit their schedules. With solid carbon steel construction, an elegant, cutting-edge design, and a full HD display screen that immerses users in group cycling classes, Peloton bikes introduce an entirely new concept to indoor fitness. The bikes have customizable settings to offer users maximum comfort and optimize the efficiency of their cycling sessions at all times.
The indoor riding experience available with Peloton is socially connected and completely immersive. Users can track their performance on a 21.5'' multi-touch screen and see how they compare with other cyclists in live cycling classes. More than 10 live classes are streamed every day from the company's studio in New York City and the on-demand library includes more than 3,000 classes with different styles, levels of difficulty, ride lengths and languages, making it easy for users to find a class that suits both their fitness needs and their schedule. The classes are designed by the best indoor cycling instructors and new videos are added to the library daily.
Peloton offers a variety of features to make training more engaging and fun, including video chat in-class, class scheduling and reminders, previews of on-demand classes, and the ability to follow other users' activity feeds, share one's workouts on Facebook, and review the rides. The Peloton bike can store an unlimited number of user profiles, which makes it possible for the entire family to share a single bike. Beginners can get set up with the Peloton 101 video series and choose the rides that introduce proper form, while advanced riders can opt for rides alongside professional cyclists to sharpen their skills and technique.
Founded in 2012, Peloton is dedicated to developing fitness equipment and technology that evolves at the same pace as group exercise classes, taking advantage of the latest trends in fitness, fashion and music to keep users motivated and connected, and their workouts effective.