Plankpad Interactive Bodyweight Trainer Gamifies Plank Workouts
BY: FG Team
2 January 2018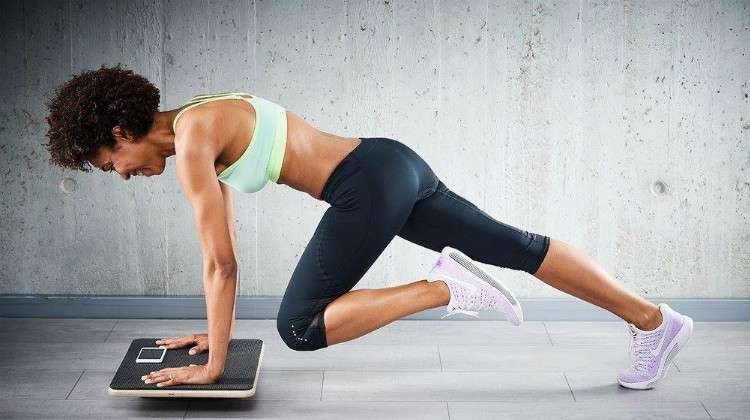 images: PASSIONFRUIT
The Plankpad Interactive Bodyweight Trainer uses interactive games to make plank workouts more motivating and fun.
The Plankpad Interactive Bodyweight Trainer combines dynamic plank and balance workouts with smartphone and tablet games to help users improve their posture, increase stability and reduce back pain. The games available through the Plankpad app allow users to focus on gameplay rather than the workouts, they motivate them to keep exercising longer, and help them reach their fitness goals faster while having fun.
Developed by the Dutch company Passionfruit, the Plankpad can help users improve their motor coordination, build core muscles and burn fat. The plank exercise is an effective way to build abs and get a strong core, but it also helps align the spine and activates a number of important muscles in the body, including those in the neck, arms, shoulders, chest and legs. Additionally, the exercise does a good job increasing the metabolism and burning calories. It is an excellent way to prevent, relieve and cure pain in the lower back.
The Plankpad can also be used as a balance board to help users improve their balance, stability, coordination and reaction time and reduce the risk of injury. Two interactive games were developed specifically for using the trainer as a balance board. They challenge users to use the Plankpad as a surfboard or snowboard and can be particularly fun for kids, who need lots of movement and benefit from doing strength exercises.
The companion app can be installed on iOS and Android smartphones and tablets to deliver various games and challenges. The games motivate users to collect points, save their score and compare their results with their friends or family. The app also teaches users to do different plank positions correctly and warns them when their form is off. It contains workouts for beginners, intermediate and advanced users.
The Plankpad was tested at a gym in Cologne, Germany, where members, including bodybuilders, found it both fun and challenging. Regardless of age and fitness level, users were able to hold the plank position for almost twice as long as before.
The Plankpad was recently funded through Indiegogo and is expected to start shipping in February 2018. Watch the video below to learn more about the workout options available with it.