Rapael Home Offers Effective Rehabilitation for Stroke Patients at Home
BY: FG Team
24 April 2017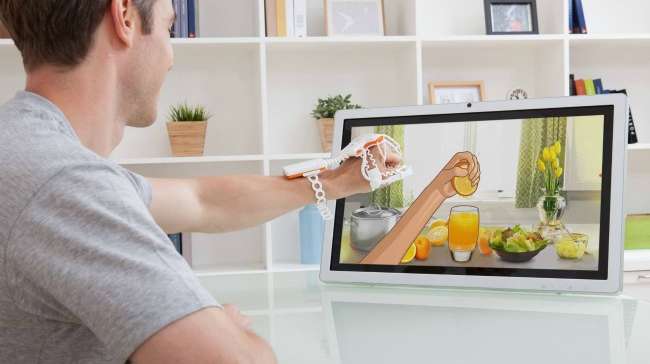 images: NEOFECT
Neofect's Rapael Home rehabilitation solution helps stroke survivors improve their hand function in the comfort of their home.
The Rapael Home rehabilitation solution uses clinically designed, VR-based interactive games and an artificial intelligence engine to help stroke patients recover their hand function at home, on their own schedule. Launched for patients outside clinics at CES 2017, the FDA-approved Rapael Smart Glove and a companion tablet can now be rented for $99 a month to help users with hand and wrist rehabilitation.
The affordable, portable solution is very easy to use and offers a comprehensive therapy through a series of motivating, customized, gamified exercises. The interactive games are designed to engage patients with neurological and musculoskeletal problems in continued training at home and to make therapy more rewarding for them.
The Rapael Smart Glove has a 9-axis movement and position sensor that changes as it gets bent and consists of three acceleration, angular rate and magnetic field channels each, offering advanced tracking and measurement of wrist movements. The therapy programs available with the glove are clinically proven and can be tailored to each individual patient to speed up the recovery process. Rapael uses a learning schedule algorithm that automatically sets the optimal difficulty level to challenge patients' skills while simultaneously keeping them motivated to keep repeating the exercises.
The Rapael Smart Glove was proven effective in clinical tests, showing significant improvements in Fugl-Meyer (FM) and Jebsen-Taylor Hand Function Test (JTT) scores. The FM test assesses balance, motor functioning, joint functioning and sensation in stroke survivors, while JTT is used to assess fine motor skills as well as weighted and non-weighted hand function activities during the performance of everyday tasks.
Based in South Korea, Neofect specializes in developing smart innovative solutions for effective, game-based rehabilitation programs that are available anywhere, at any time. The company will soon launch the Rapael Smart Board, a medical device developed to improve functional movement and arm reaching ability in patients who suffered damage to their shoulder or elbow joints.
Watch the video below to learn more about the Rapael Smart Glove and Neofect's other innovative products.