SCALee VR Technology Lets Users Become Part of Virtual Worlds
BY: FG Team
18 January 2016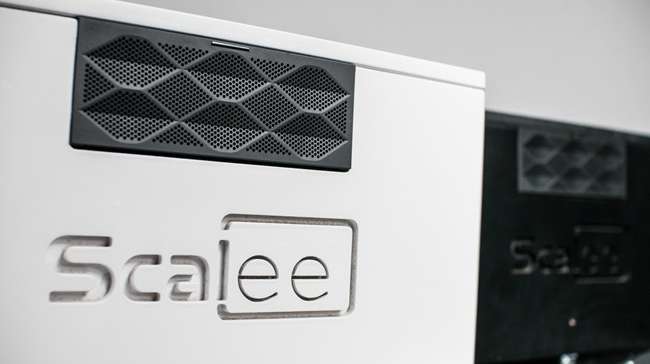 images: SCALE-1 PORTAL
SCALee, a new immersive VR solution unveiled at CES 2016, is designed to bring virtual worlds to users' living rooms.
SCALee, one of the innovative technologies presented at the Consumer Electronics Show (CES) in Las Vegas earlier this month, is a virtual reality solution that brings a fully immersive experience of virtual worlds right into users' homes. Developed by the French startup Scale-1 Portal for home use, SCALee is a portable VR projector and media centre that transforms any white wall into an immersive world, allowing users to interact with games and applications in 1:1 scale.
SCALee allows several users at a time to interact with virtual environments and enjoy the immersive experience with friends and family without having to wear a headset. The projected screen is 3 metres wide and the unit includes a Windows 10-based computer, which means that the system can be used as a media centre, to browse the Internet, or to play different games. SCALee allows players to put on their 3D glasses and interact with virtual worlds naturally, as if they were part of them. The system also works as a 3D home theatre, allowing users to enjoy movies on a 10 ft wide screen.
SCALee comes with an installed futuristic obstacle and battle race game called Future Runner, and more games and experiences are currently in development. Additionally, a software development kit is available to developers looking to add their own games and content to the platform.
SCALee is easy to pick up and move around, and can be used in different sized rooms. The projector is the only piece of equipment users need to enjoy different VR worlds and environments in their own home.
The system is expected to be released in the last quarter of 2016, with a few exclusive pre-orders available this month through a crowdfunding campaign, which will start shipping in February. Watch the video below to see the experience the system delivers.
Founded in 2014, Scale-1 Portal is a French company specializing in projection-based VR solutions. They offer immersive solutions for the entertainment, real estate and construction sectors, with a focus on innovative and cost effective VR technologies.