Sophia Smart Jump Rope Counts Jumps and Tracks Calories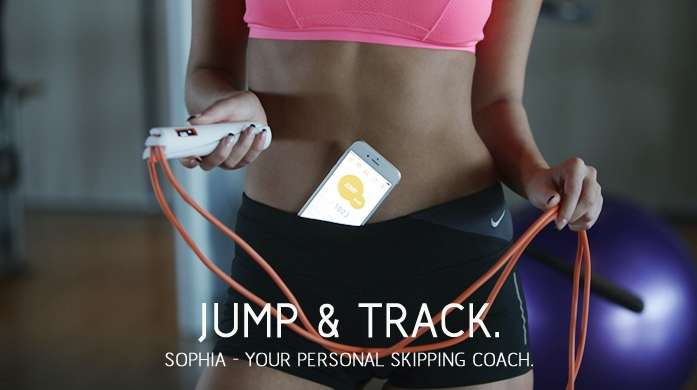 images: FITFOX
Sophia, the smart jump rope developed by the Irish company FitFox Ltd., has introduced smart data tracking to a popular fitness activity.
Sophia, the smart skipping rope that recently reached its crowdfunding goal on Kickstarter, is the latest smart fitness device that combines sensors and smart data with a full-body workout tool: the ever popular jump rope. Sophia allows users to track their calories and sync their workout via Bluetooth.
Jumping rope is one of the most effective ways to get in shape as it improves cardiovascular fitness and tones muscles at the same time. The activity burns a lot of calories – 100 to 160 every 10 minutes – and strenghtens both the upper and lower body while simultaneously improving coordination and balance. If done properly, it is a lower-impact workout than jogging, which also puts significant stress on the knees, ankles and hips.
Sophia uses an activity tracker integrated into a portable jump rope to help users reach their fitness goals. It tracks their speed, calories and jumps, providing them with a truly personalised workout. The companion fitness app lets users track their goals and results on their smartphone, and also challenge their friends to competitions. The app works with both iOS and Android devices. However, users don't need a smartphone to check their progress. The smart jump rope has a small LCD screen on one of the handles that provides users with a quick overview of the number of jumps.
Sophia uses advanced sensors, including a triaxial accelerometer and an optical module that can accurately track jumps. It wirelessly connects to users' smartphones via Bluetooth to provide them with intelligent data on their progress. Users can compete against their own best results and show their achievements on social media. The Arcade mode allows them to challenge their friends anywhere in the world and turn the workout into a fun, competitive experience for extra motivation.
The Sophia jump rope weighs only 164 grams and can easily fit into any bag. It has a one month battery life. The companion app works with iOS Health and GoogleFit and can complement fitness data from these platforms.
Watch the video below to learn more.