VHOOP Delivers Smart, Competitive Hula Hooping
BY: FG Team
12 January 2018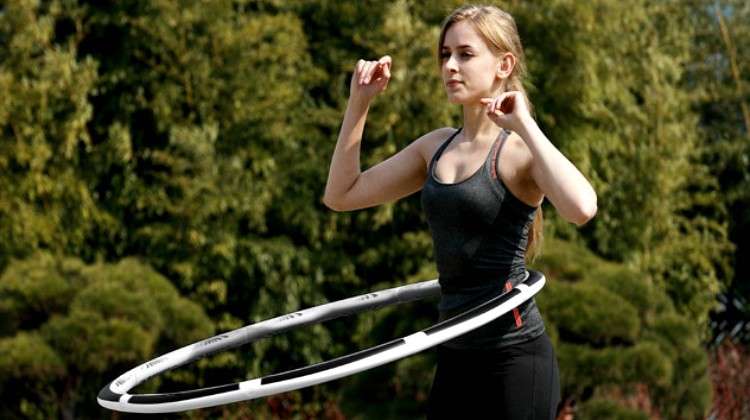 images: VIRFIT
VHOOP is a smart, portable fitness solution developed to help users lose belly fat and get into shape.
VHOOP is a smart fitness device that turns hula hooping into a fun, competitive social experience and motivates users to exercise more and get into shape. The device is portable and can be used anywhere, indoors or outdoors. It comes with a companion app that allows users to compete with friends and other users around the world and to share their results. Unlike regular hoops, VHOOP has a notification feature to make sure that users do not forget their workouts and to motivate them to keep working toward their fitness goals.
Hula hooping is a highly effective form of exercise that targets the abdomen, legs and arms through a range of exercises. It improves endurance, motor skills, flexibility, balance, and hand-eye coordination. A weighted hoop can even be used for strength training.
VHOOP allows users to manage their workout data while exercising and having fun. It turns hooping into an interactive experience, delivering exercise data for each workout, which users can see on their smartphone via Bluetooth. The numeric values behind every workout, including length, the number of turns, and calories burned, make it easy for users to track their progress and see their performance improve over time.
The VHOOP app is available for both iOS and Android devices. In addition to exercise data and notifications, it offers leaderboards, workout history, awards and competition. The app's workout section provides users with instant feedback and tips to correct their technique and improve their workout sessions. The history tab displays past workout data and shows users which side of the body they used more. It also tells them what they can do to get a more balanced workout. To see how they compare against their friends, users can check the leaderboard tab, while the awards tab allows them to keep unlocking new awards.
VHOOP is made of soft, high-quality materials and has a convenient design that makes it easy to store and carry. The device is safe to use and does not cause any joint pain. It comes with 8 stainless steel weights which can be used to make the workouts harder. To learn more about VHOOP, watch the video below.