Active Floor Promotes Learning Through Movement and Play
BY: FG Team
26 February 2016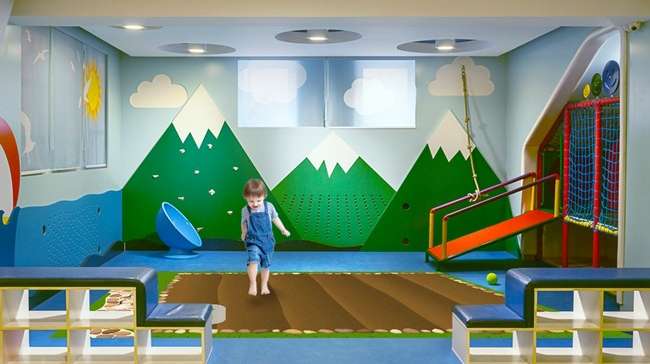 images: ACTIVE FLOOR
Active Floor is a new interactive floor designed for use in schools, day care centres and healthcare facilities.
Active Floor, a new interactive solution coming from Denmark, is designed for learning through gamification and encourages movement and active play at schools, day care centres and hospitals. Using a projector kit and a Kinect 2 camera, the interactive floor allows educators to create customized content for the classroom and capture pupils' attention with a variety of fun games that support educational and learning goals of different subjects.
Active Floor offers children access to auditory, visual, tactile and kinesthetic learning through movement and allows teachers to integrate fun, games, and exercise into subjects like math, language and natural science. The learning games available with the floor encourage interactivity and collaboration among students and challenge their memory, knowledge and creativity through active play. The technology tracks different types of movements and gestures using a unique gesture library to ensure accuracy.
Active Floor was developed by Solutors, a company specialising in designing innovative audiovisual solutions for clients in every sector. The Brøndby-based company has developed 10 games for the interactive floor. Seven of these allow teachers to upload their own content using the company's website and create their own games.
The game templates are divided into three categories: exercise games, activity games and quiz games. The exercise games require active physical input from players, who are challenged to come up with a solution to an assignment. The activity games encourage physical activity and are mainly designed for entertainment. One of these, the Flower Garden, requires children to grow their own garden and avoid weeds, while another is a football game that is played for fictive 90 minutes. The quiz games are based on multiple choice questions and each comes with its own game logic. Pirate Island, for instance, requires kids to strategize and fight to win the most territory, while Danger in the Jungle challenges them to be the first to cross a magic suspension bridge.
Active Floor was showcased at the 2016 Bett Show in London in January, where it got tons of positive feedback and enthusiasm. Watch the video below to see the system in action.