Blue Goji Honoured for Efforts to End Childhood Obesity Crisis
BY: FG Team
29 November 2017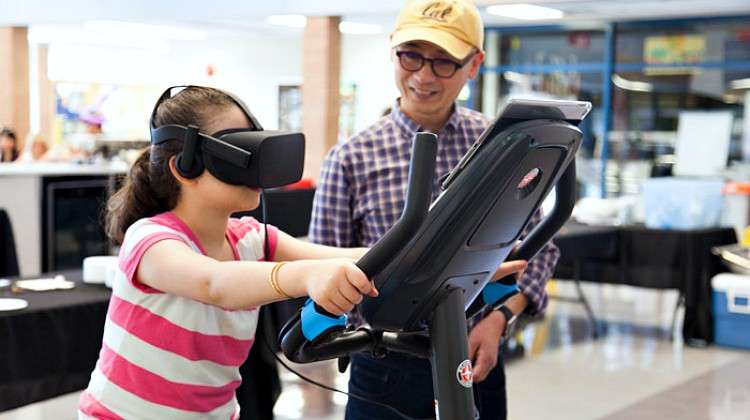 images: BLUE GOJI
Blue Goji Co-Founder and CEO Coleman Fung was honoured with the Visionary CEO Award, presented by Partnership for a Healthier America (PHA) at the annual Fit to Celebrate Gala, held on November 1, 2017 in Washington, D.C.
Partnership for a Healthier America is a non-profit organization based on former First Lady Michelle Obama's "Let's Move" Initiative, established to promote the health and wellbeing of young people by solving the childhood obesity crisis. The organization's work supports the initiative by bringing together leaders from the public sector, the industry and non-profit organizations to forge new commitments and initiate strategies that effectively address childhood obesity. The annual fundraiser gala is held to support the organization in its efforts toward this goal and to celebrate industry leaders who have dedicated themselves to helping ensure that all children are at a healthy weight.
Each year, PHA honours a few leaders who have done outstanding work to inspire children to make healthier choices by presenting them with their Catalyst for Change Awards. The PHA Visionary CEO Award in particular celebrates leadership, vision and the ability to facilitate real change in the lives of young people and their families. The Blue Goji CEO was chosen for his commitment to improving people's health by creating technologies that make exercise fun and inspire children to adopt a healthier lifestyle.
Fitness games for childhood obesity prevention
Blue Goji became an official PHA partner in May 2016 with a commitment to support the non-profit's mission of fighting childhood obesity. The company has since worked diligently to develop an Active Gaming/Active VR-based solution that would specifically target children, especially those from underserved communities.
As part of the effort, finding ways to use Blue Goji's Active Gaming/Active VR technology to stimulate kids to be active and learn became the driving force behind the Fung Fellowship for Wellness and Technology Innovations, a unique collaboration between Blue Goji, UC Berkeley School of Public Health, the Fung Institute for Engineering Leadership at UC Berkeley's College of Engineering, and the Coleman Fung Foundation.
The Fung Fellowship is a two-year pilot program that brings together UC Berkeley undergraduates of all majors to work on health and wellness technology projects that address public health challenges through innovative digital technology solutions. The Fung Fellowship works with local and community-based organizations to pilot the program to low-income areas using Blue Goji active play solutions. It also donates resources to motivate kids to be active and to educate them on health and wellness. The Fellowship will use the insights gained from the program to introduce a new fitness game to the marketplace.
By playing active games, kids reap benefits that go beyond physical fitness. A recent study correlating children's aerobic fitness with their ability to think showed that kids who engaged in physical activity and lost more visceral fat performed better on tests of fitness, body composition and cognitive skills. Their attention, information processing and impulse control also showed significant improvements.
Fitness games like those available with Goji Play are generally well received among kids. In July 2017, Blue Goji teamed up with SuperChefs, a company dedicated to promoting healthy eating habits by teaching children cooking skills and educating them on the benefits of regular exercise and eating nutritious foods. Blue Goji set up their Active Gaming Goji Stations at one of the schools that hosted SuperChefs Cookery for Kids Summer Camps in Surrey, Vancouver. The Goji Stations, equipped with Goji Play controllers, Oculus Rift headsets, Bluetooth-enabled stationary bikes, iPads and Blue Goji's 2D games, proved very popular among the campers. The kids particularly enjoyed playing the ActiveVR games and had lots of fun discovering a new form of exercise.
Social benefits of exercise
Active games have the potential to be a powerful community outreach tool. Children from underserved communities are not an easy group to reach through various pro-social initiatives, but they can greatly benefit from fitness and sports-based programs because they often do not have any other positive outlets. Regular involvement in a fitness program can bring structure into their lives and introduce them to a new group of people, one less committed to a negative outlook. In addition to making them fitter and healthier, exercise allows kids to see themselves in a more positive light and this can give them a more positive focus.
Blue Goji is currently collaborating with UC Berkeley to research the possible effects that active games may have on children from underserved communities and their academic achievement, with a special focus on children with ADHD and other behavioral issues. The Blue Goji CEO touched on the company's efforts in this area in his acceptance speech at the Fit to Celebrate Gala.
Watch the video below to hear his remarks.