DDR Classroom Edition Fights Childhood Obesity in Schools
BY: FG Team
31 August 2013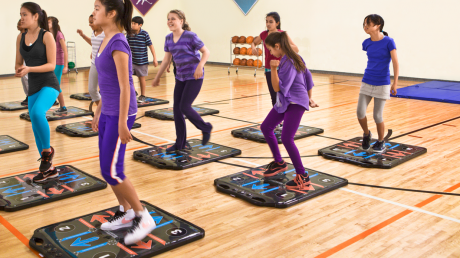 images: DDR CLASSROOM EDITION
Konami has teamed up with insurance company UnitedHealthcare to bring DanceDance Revolution (DDR) Classroom Edition to schools in an effort to reduce childhood obesity.
Konami's popular interactive dance game DanceDance Revolution (DDR) has reached 2,200 school-age children so far as part of a new childhood obesity prevention initiative that the company launched in collaboration with UnitedHealthcare. In an effort to reduce obesity, the insurance company has teamed up with the active gaming leader to install DDR Classroom Edition and other fun exercise games in schools across the U.S. The program has reached seven schools so far.
Childhood obesity has risen at an alarming rate in the United States over the last few decades, with roughly 17 percent of children aged 2 to 19 now considered obese. Approximately 12.5 million children and adolescents across the U.S. fall into this group, which translates into a threefold increase in this age group since 1980. Video games and sedentary lifestyles have no doubt played a key role in this trend, which is why a number of active games manufacturers like Konami are becoming increasingly involved in programs to prevent and fight obesity and all the health problems that inevitably follow, ranging from diabetes and high cholesterol to cardiovascular disease and even some types of cancer.
Active games can not only help children become more engaged in sports and other physical activities, but also improve their self-esteem, confidence in their physical abilities, and social interaction. By reducing the time children spend in sedentary activities and promoting healthier lifestyles, physical games provide a wide range of benefits, from increased life expectancy and decreased risk of illness to improved overall well-being and higher self-esteem. "DanceDanceRevolution teaches kids that physical activity can be fun and enjoyable, while fostering the development of healthy attitudes and habits that can last a lifetime," says Reed Tuckson, M.D. and chief of medical affairs and executive vice president at UnitedHealth Group.
Dance games are particularly beneficial to children who normally lack the motivation to exercise, as games like DDR provide a way for these kids to have the recommended 60 minutes of physical activity each day without experiencing some of the demotivational factors involved in group activities and sports, such as self-awareness and lack of confidence. Dance games and other exercise games take the focus away from the physical effort and the setting, providing children with an engaging game that they can enjoy in a social environment without worrying that their fitness level and skills are being judged by their peers. At the same time, kids are improving their coordination, endurance and stamina, and keeping their weight in check.
A recent article published in the journal Medicine and Science in Sports and Exercise states that 40 percent of children aged 5 to 8 show at least one of the risk factors associated with heart disease, which include obesity and hypertension. A study conducted by the Institute for Aerobic Research reveals that first signs of arteriosclerosis are appearing as early as the age of 5, which is something that was not previously seen in anyone under the age of 30. A report released by the Centers for Disease Control and Prevention (CDC) states that one in three American children born in 2000 will develop type 2 diabetes, also associated with inactivity and sedentary lifestyles. To combat these alarming trends and help kids stay healthy and fit, a number of obesity prevention initiatives have been launched in the last decade to motivate children to spend more time exercising and less time watching television and playing video games. The collaboration between Konami and UnitedHealthcare is just the last in the long line of positive efforts to put a stop to the obesity epidemic and encourage children to lead healthier lifestyles by providing them with a compelling alternative to video games.