Expresso Fall Frenzy Virtual Biking Tournament Comes to a Close
BY: FG Team
12 November 2014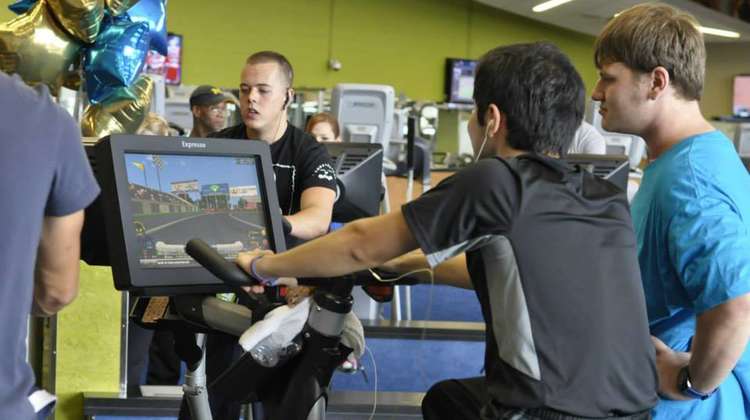 images: INTERACTIVE FITNESS, INTERACTIVE FITNESS FACEBOOK
The 2014 Expresso Fall Frenzy tournament challenged students from 124 colleges and universities across the United States to compete against each other on Expresso's virtual reality courses.
Every year, the Fall Frenzy virtual biking tournament challenges students at universities and colleges across the United States to ride against each other in several intense competition rounds. The team that logs the most miles on Expresso virtual bikes wins the Golden Spokes trophy, and the top 10 overall riders receive tournament honours. Hosted by Interactive Fitness, the Fall Frenzy tournament promotes personal fitness, endurance, and team effort through competition between teams representing their schools.
The qualifying round of this year's tournament took place on October 7 and 8. To participate, riders had to create a My Expresso account with an ID, password and additional information, and then sign into an Expresso bike on their campus. The teams that logged the most miles at the end of the qualifying round advanced to the Sweet 16 round, which began on October 15 and ran for 48 hours, with 16 teams competing head to head. The teams that logged the most miles in individual matchups in the knockout stage advanced to the Elite Eight round, which began on October 22.
After another 48 hours of intense cycling, the winning teams advanced to the Final Four round, which started on October 28, with teams from Louisiana State University, Binghamton University in New York, Gannon University in Pennsylvania and Schoolcraft College in Michigan once again competing head to head in two matchups. Schoolcraft defeated the defending champions from Louisiana and Gannon, a newcomer to the competition, defeated last year's finalists from SUNY Binghamton.
In the championship round, the 185 cyclists riding for Schoolcraft narrowly defeated Gannon's team of 128 riders. Schoolcraft logged 4,148 miles and Gannon, 4,028.
Over the last month, 2,226 riders from 124 colleges and universities took part in the Fall Frenzy tournament. Leading up to the championship round, they rode a total of 46,154 miles on their Expresso bikes, burning more than 1,600,000 calories.