Funky Moves to Present New Active Play Products at AAHPERD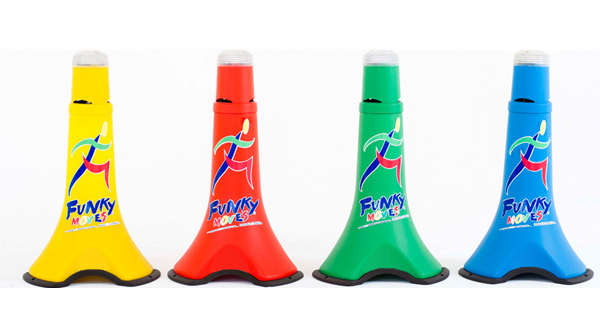 images: FUNKY MOVES
Active play leader Funky Moves will be one of the fitness gaming companies showcasing their new products and technologies at the AAHPERD National Convention in St. Louis.
Funky Moves has announced that it will present its flagship active play product, Funky Moves, at the 2014 AAHPERD National Convention, organized by the American Alliance for Health, Physical Education, Recreation and Dance (AAHPERD), which runs from April 2 to 5, 2014 in St. Louis, Missouri. The company will also offer expo attendees a chance to try out their active gaming system by entering the Funky Moves Challenge. The winner will be presented with a new GoPro® camera.
Funky Moves is an exciting active play system that provides a wide spectrum of gaming options designed to train both the body and the mind. It is a flexible product, one that can be used both in the gym and outdoors, in the playground. Funky Moves is suitable for children and users of all ages. It offers multiple activity levels and can be used by people of different fitness and skill levels. The system is scientifically proven to improve cognitive and key motor skills, and it offers users a fun way to stay physically active.
Funky Moves, Inc. has participated in a number of active play studies over the years. They have teamed up with Dr. Lisa Witherspoon, an active gaming researcher at the University of South Florida, among others, to assist with designing a cognitive learning program and to research the benefits of their product in real life applications. Dr. Witherspoon's The Game and Lesson Guide contains numerous game ideas that meet NASPE standards, outlined by the National Association for Sport and Physical Education. The company has also taken part in ongoing extensive product research and formed other higher education partnerships to be able to better understand the benefits of Funky Moves.
Ryan Dean Hoggan, President of Funky Moves, said in a statement: "We're pleased to be showcasing Funky Moves at this year's AAHPERD National Convention. Funky Moves is an ideal solution for physical educators interested in adding active play that promotes teamwork, motor skills and is outright fun! And, Funky Moves is extremely easy to move indoors or outdoors and takes less than one minute to clean up after class."
The AAHPERD National Convention will feature more than 200 products and offer a number of educational presentations this year. The event will be held at the Americas Center in St. Louis.
Visitors can find the Funky Moves and enter the Funky Moves Challenge at booth #914.