Lü Interactive Gym Enhances Learning, Play and Physical Activity at Schools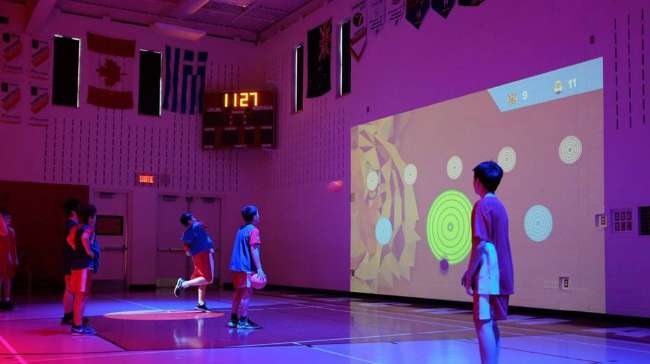 images: SAGA
Lü is an interactive playground that uses lights, sounds and video to transform any gym into an engaging, immersive video game.
Lü, an interactive playground designed to bring active play and active learning to gyms, combines lights, sounds, video and gameplay to engage children's bodies, minds and senses in immersive experiences that allow them to develop their physical skills through play. Developed by the Canadian company SAGA, Lü can transform any gym into a playground for learning.
Launched in February 2017, Lü offers active games that are suitable for all levels of skills. The games augment different sports and support different types of learning. The interactive platform uses 3D cameras that are mounted on the ceiling to collect information and drive the games projected on the wall. The system integrates lights and sounds to deliver a more immersive experience.
The interactive playground is available in two configurations. Üno consists of a single interactive wall, well suited for smaller spaces and groups, while Düo includes two kits facing each other that enable multiplayer gameplay in larger spaces, but can also be used as independent systems. Both configurations come with 10 Üno games, as well as all the equipment and interactive technology, but Düo includes four additional games that maximize the experience available with the larger configuration.
Lü will be available worldwide, either as a rental or as a permanent installation, in May 2017. The platform comes with a projection kit consisting of a computer, remote control, projector, camera sensor, lighting fixtures, moving lights, stereo amplified sound system and rigging equipment. The basic configuration comes with 6 multicolor lighting fixtures and 2 moving lights, while the Düo kit contains twice as many of these.
Based in Québec, SAGA specializes in creating augmented reality experiences and smart spaces that enhance learning, attention and productivity. The company develops solutions that understand user behaviours and contexts, and have the potential to change education, workspaces and retail environments.
Watch the video below to see the experience that Lü brings to gyms.