Magic Carpet and Magic Mirror Introduce Inclusive Learning Through Sensory Play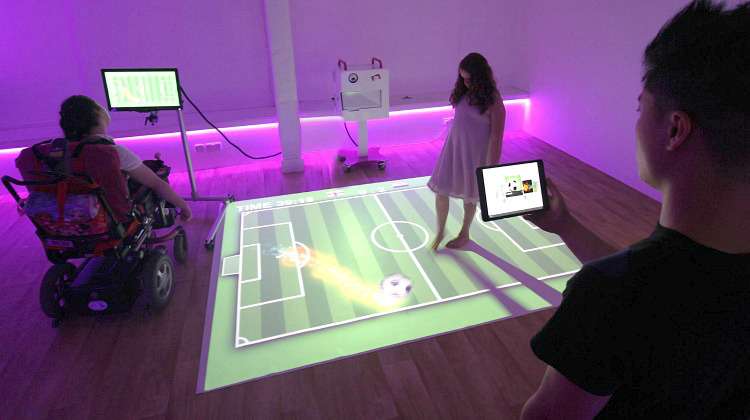 images: SENSORY GURU
Sensory Guru's Magic Carpet and Magic Mirror are interactive projection systems that use gesture controlled software to immerse users in inclusive learning.
Sensory Guru's Magic Carpet and Magic Mirror projection systems use interactive and augmented reality technology to engage users of all ages and abilities in inclusive learning experiences delivered through gesture-based sensory play.
The Magic Carpet is a motion-controlled system that uses a camera and special software to enable users to activate it with movement of any part of the body. The projected elements change as users interact with them, engaging the users with an endless variety of audio-visual effects, sounds, music or complete visual scenarios that are triggered by the slightest of movements. The app-based projection system is an inclusive learning tool for students of all ages and abilities, offering multiple access methods, including gesture, touch, mouse and eye gaze. The system is compatible with Tobii Dynavox eye trackers to enable users of Eye Gaze technology to participate.
The Magic Carpet has been available as a fixed ceiling installation since 2009 and, in 2017, Sensory Guru launched the mobile version, which was named Best of Bett 2017 at the 2017 Bett Show, held in London in January. The company also launched a new app store for the product this year with over 500 apps across 25 categories to choose from. The content includes games, quizzes and themes designed to immerse children in learning and play. The apps support the national curriculum and SEN learning and offer a versatile range of options for interactive play and sensory stimulation. Users can run the apps and control the Magic Carpet from any iOS or Android device.
The Magic Mirror is an interactive wall projection system that uses augmented reality technology and Magic Carpet's content to offer ground-breaking AR interaction for all ages and abilities. The system uses the image of the person standing in front of the wall and integrates it into the app that is being used to allow users to play interactive games, play in a band together and control the content simply by moving. The prototype was presented at Naidex 2017, the UK's largest disability and home care trade show, held in Birmingham in March.
Sensory Guru is a UK-based company that specializes in developing unique interactive learning technologies, including gesture-controlled software, future learning spaces, eye gaze software and Tobii AAC (assistive and alternative communication) products. The company's team is comprised of designers, engineers, programmers and education specialists who are dedicated to creating inspiring solutions that make a positive impact on the development of children with special educational needs. The company is also a leading supplier of assistive, eye gaze and sensory solutions to the NHS.
Watch the video below to see some of the possibilities available with the Magic Carpet.