MOVchallenge Physical Activity Program Reaches Ohio School
BY: FG Team
19 January 2014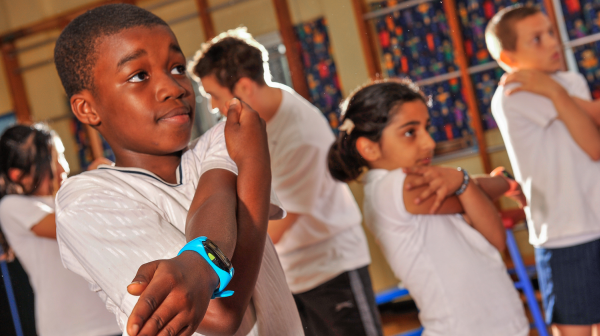 images: MOVBAND, NEOHIONEWS.COM
MOVchallenge, a school-based physical activity initiative first launched by the fitness company Movable in 2012, has reached an elementary school in Ohio.
The MOVchallenge initiative, a school-based program that motivates children to be more active, was recently launched in three fifth-grade classes at Madison Avenue Elementary in Painesville Township in Ohio. The 12-week MOVchallenge program was launched within the larger Get Active Stay Healthy initiative, and has introduced the students to new forms of fitness, from karate to Zumba. The goal of the program is to instill healthy habits in children and improve their overall health; physical, mental, and emotional.
First launched in 2012, MOVchallenge motivates kids to move 100 miles in three weeks. The program uses MOVbands, Movable's wrist-worn activity monitors, to track the children's activity. The MOVbands help children become more aware of how active they are throughout the day and motivate them to move more. They don't only measure steps, but all movement, making every move count during the challenge. As MOVchallenge is a competitive experience, children generally show a lot of enthusiasm for the program as well as strong motivation to win, so it is not unusual for them to record significantly more than 100 miles over the course of the program.
The goal of MOVchallenge is to motivate participants to move 5 miles every day. The program can be extended to include families and even communities, engaging even bigger groups to make physical activity a rewarding and social experience while bringing healthy habits to the centre of community culture.
MOVchallenge is a popular solution among both students and teachers because it allows them to bond through a fun competitive experience. The more active the children are, the more focused they are in school, and teachers don't need to do any extra work to make classroom life easier.
To learn more about MOVchallenge, watch the video.