OM Interactive Partners with Microsoft to Bring omiVista to Immersive Class
BY: FG Team
20 November 2013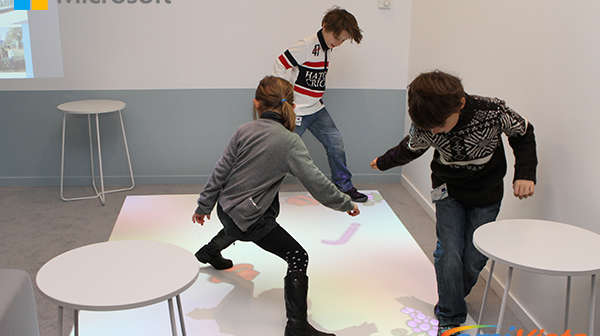 images: OM INTERACTIVE
The omiVista interactive floor will help introduce students at Microsoft's Immersive Class in Paris to new modes of learning in an engaging interactive environment.
OM Interactive, a pioneer in the development of gesture-controlled interactive technology, has recently teamed up with Microsoft to install its interactive floor, the omiVista, at Microsoft's Immersive Class at the tech giant's headquarters in Paris.
The Immersive Class is Microsoft's interactive learning project that was launched to explore the potential of advances in digital technology in education. It provides students with a different, unique learning experience in an engaging gaming environment. The class makes it possible for students to immerse themselves in educational content using 3D technology, augmented reality, and touch and gesture-controlled technologies. The students access new knowledge through learning scenarios developed by teachers for various academic disciplines at different levels. To create the scenarios, teachers have a variety of resources at their disposal, including digital textbooks, interactive games, and applications.
The omiVista, the latest addition to the Immersive Class, is an interactive projection system that creates dynamic visuals on the floor. The images projected on the floor respond to the players' movements. The system comes with up to 300 applications grouped into five themes: Education, Explore, Festive, Play, and Themes.
The omiVista interactive floor is powered by EyeClick technology and the visuals projected on the floor respond to even the smallest gesture, making it possible for students to easily interact with the floor and to get immediate audiovisual response. The omiVista is a a ceiling mounted projector assembly and can be used in different indoor environments, including main halls, sensory rooms, and interactive zones.
The omiVista interactive system offers an exciting sensory learning experience and facilitates inclusive practices, as it can engage students of all ages and abilities in the interactive learning experience. The system is intuitive and extremely flexible. It is equipped with an Activity Monitoring Template which allows teachers to monitor and document students' progress. To see how the interactive floor is used at Microsoft's Immersive Class, watch the video.