Sensigom Delivers Versatile Range of Interactive Solutions for Indoor and Outdoor Play
BY: FG Team
18 August 2016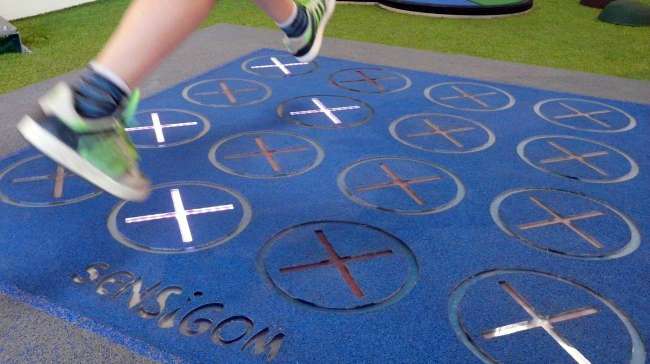 images: SENSIGOM
Sensigom offers a varied range of indoor and outdoor interactive play solutions designed for playgrounds, sporting events and social spaces.
Sensigom, a French company specializing in developing products for interactive play, offers a variety of fun solutions for playgrounds, sporting events and courses of educational social centres, including retirement homes, early childhood facilities, and facilities for children with autism.
The company's concepts are designed as thematic solutions for interactive play, offering a variety of active and multisensory games for all ages. The playground products include a musical ground (rubber floor), a light and sound course in the shape of interactive mushrooms, and Multigame, the company's flagship product.
Multigame is an interactive area consisting of 9, 16 or 25 boxes that can be used to play different games, including Tic Tac Toe, Musical Chairs, Sound Memory, Visual Memory, and Dancing. Some of the games can be played by a single player, while others allow up to 10 players at a time. The Multigame board can be set up as a temporary or permanent installation and moved to different locations if the customer requires it. Players can select the games from a central terminal and use Bluetooth to play their own music while playing the games.
The solutions in the sports line include cage interactive football, which challenges players to keep hitting a wall, rugby posts with sensors, which use sound animations whenever a ball passes between them, and a basket.
The products designed for social centres include a vibratory soil, a musical and memory game, and a sensory walk concept. Some of the games available with interactive concepts and soils incorporate educational content, including learning musical notes, the alphabet, and learning to recognize different animal cries. The games also allow children to become familiar with different colours and shapes.
Sensigom's interactive technology uses patented pressure sensors, wireless technology, a durable system mask, and a solar totem, which makes outdoor installations energy autonomous. The products are easy to install and can be configured and maintained remotely via a 3G modem. The company has developed solutions for a number of playgrounds, theme parks, malls, and other public spaces, and has sold indoor and outdoor installations in France, Spain, Ireland and Israel.