TapWall Engages Players in Workout Games That Improve Reaction Time and Agility
BY: FG Team
10 November 2017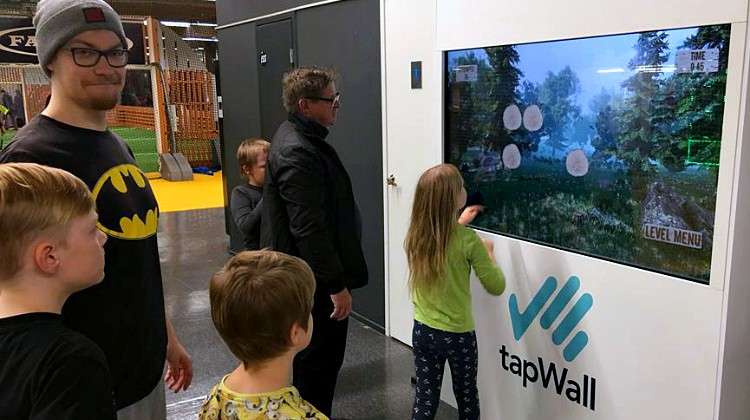 images: CSE ENTERTAINMENT
The tapWall reaction and game wall offers a range of active touchscreen games designed to engage users of all ages in immersive gameplay and improve their reaction time, speed, coordination, agility, and cognitive skills.
The tapWall is a next-generation active gaming solution designed to immerse players in fun interactive games that challenge them to use both their bodies and minds and improve a wide range of skills, including reaction time, agility, coordination, visual tracking, sequencing and memory skills. The wall comes with an integrated display cabinet and uses accurate touch technology and infrared sensors to deliver engaging game experiences on a 65-inch high resolution screen.
Interactive workout games
The games available with tapWall appeal to players of all ages and provide a range of fun experiences for the entire family. They offer instant visual and audio feedback to make gameplay more engaging, while the scores motivate players to keep playing to beat their own best results.
The games can be played by a single player or by more players simultaneously. Players can compete against others or try to reach the high score list. The games have different levels of difficulty, which provides additional variety to gameplay.
The current game selection – R-Action, Memory Game, Goalkeeper and SpeedMaster – allows players to improve their reaction speed, visual tracking and memory skills. New games are added on a regular basis and there are plans to release a range of educational games to improve players' math and other academic skills. Learn more about tapWall in the video below.
The tapWall is compact in size and takes up very little space of the floor and wall. It makes an excellent addition to different public and educational environments, including schools, activity parks, kindergartens, fitness centers, hotels, airports and shopping centers. The system has a visually impressive design and, when it is not being used, it displays a beautiful view of the outdoors accompanied by authentic sounds and interaction with animals on the screen.
The platform is very easy to use. Players can simply touch the screen and select one of the games to start playing. The user-friendly interface allows them to easily navigate between the main menu, games and different levels. All game data is stored in the cloud and used for development, and customers are provided with access to online usage statistics.
Benefits of reaction training
The tapWall combines brain and body training to improve players' reaction time, decision making skills, working memory and ability to detect relevant cues. A good reaction time is critical in sports, but it is also important in everyday life as it can prevent injuries and help people move out of the path of danger.
Having a good response time benefits people in countless ways, as it allows them to be agile when responding to various stimuli in situations like driving, playing sports and engaging in different physical activities. Training and challenging the brain to react faster helps make it quicker and more efficient in these kinds of situations, which in turn can help avert danger.
All the games that come with the tapWall improve players' hand-eye coordination and challenge them to use their upper body. This can help relieve pain and tension in the neck and shoulders, which are increasingly common problems nowadays, even among the younger population. The games also improve players' visual tracking skills, helping increase their ability to focus on targets.
The tapWall was developed by CSE Entertainment, a Finnish company dedicated to creating innovative active gaming products that offer an alternative to traditional workouts and inspire people of all ages to exercise and adopt a healthier lifestyle. The company's interactive fitness products also include the iWall, rehabWall, the Athene Exergaming fitness and rehabilitation platform, and 4Active, an active gaming system that uses a dance pad interface to engage children in games that help develop their physical and cognitive skills.
The tapWall had its domestic launch and user testing at the SuperPark Vuokatti in Finland, where it was installed in mid-October and received with a lot of enthusiasm. The innovative solution will be presented to international audiences at the inaugural Future Fitness Lab, a VR fitness event organized as part of the Fitnessfestivalen, Northern Europe's largest fitness trade show, which will be held in Stockholm, Sweden from December 1 to 3. Watch the video below to see some of the gaming options that are currently available with the platform.