WizeFloor GO Mobile Active Play and Learning Solution Introduced at 2018 Bett Show
BY: FG Team
2 February 2018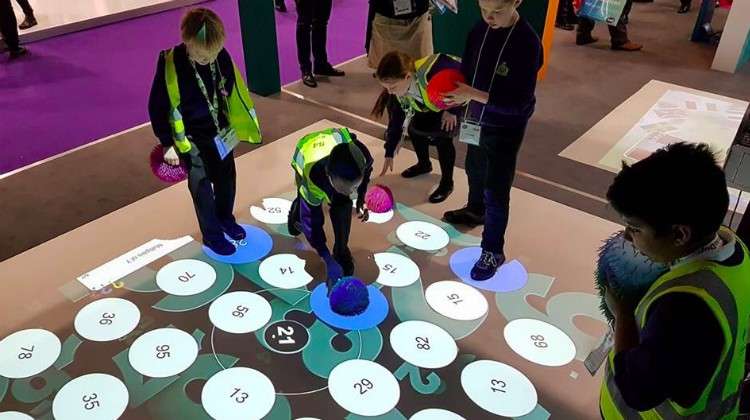 images: WIZEFLOOR
WizeFloor presented the WizeFloor GO, a new mobile solution based on the company's flagship product, at the 2018 Bett Show in London.
WizeFloor introduced the WizeFloor GO, a new mobile solution based on the award-winning learning product WizeFloor, at the 2018 Bett Show, held from January 24 to 27 at the ExCel London exhibition centre.
WizeFloor is an interactive floor that delivers a varied range of learning games through physical activity and play. Targeted at children aged 3 to 12 and students with special needs, the floor promotes a social learning experience and differentiated learning styles through collaborative play. It uses a ceiling-mounted projector to display interactive games and exercises on the floor and allows children to interact with the content using their body as an input device.
The games available with the WizeFloor offer a wide range of learning opportunities and encourage teamwork and discussion, improving children's social skills through compelling interactive content. The software that comes with the platform makes it easy for educators as well as for children to create their own learning games and activities. Users can share their games with others through the WizeFloor online community.
WizeFloor is the result of almost nine years of research and development at the Aarhus University and the Alexandra Institute in Denmark. It was developed using insights gained from Danish schools and day care centres to provide kids with content that engages them mentally, physically and emotionally and allows them to assimilate new knowledge while having fun with their peers.
The WizeFloor GO is a new portable learning solution that makes it easy for educators to set up WizeFloor games and activities at a location of their choice. The mobile platform has wheels and is easy to drive to any classroom to offer students a range of fun learning activities. The product was developed to encourage active play, physical movement and teamwork. It allows about three to four players to interact with the games at the same time. The projection size of the floor can be made larger to allow more kids to participate.
By combining compelling educational content with active physical play, the WizeFloor delivers a range of benefits for children. Playing with others helps kids learn about themselves, their behavior in a group, and the way they respond to winning or losing. It also teaches them to take turns and helps them pick up some of the most common social rules. Additionally, while trying out different games and applications, kids learn to think in a number of different ways and they become aware of their preferred learning style.
The apps developed for the WizeFloor can be easily customized and tailored to the needs of the classroom. Educators can add text, images, sound and videos to any app to achieve different learning goals. Various elements of the games, including time and score, can be adjusted to fit the target group.
The games can be used to teach a varied range of topics and the customization options make it possible to create content for kids of all ages and for every subject. The existing games offer a lot of variety in the classroom. Balloons, for instance, can be used to motivate kids to practice spelling different words or to learn multiplication tables. Categorize teaches them to do just that while playing on the floor, and the chess applications guide kids through different chess moves and let them practice simple equations on the chess board. Piano invites them to play a virtual piano using their bodies, while Puzzle challenges them to solve various puzzles by moving across the floor.
Schools using the platform have experimented with developing different types of scenarios to engage kids' attention and imagination. These include older children creating new games for the younger ones or acting as teachers and guiding younger kids through the process of developing their own learning games. Both activities were very rewarding for the groups involved.
The WizeFloor GO comes with a projector, camera, PC, and all the apps and games that are available with WizeFloor. Watch the video below to see some of them.